Ricky Ponting on Wednesday became Test cricket's most victorious player and captain after Australia emphatically won the first Test against Pakistan at the Melbourne Cricket Ground.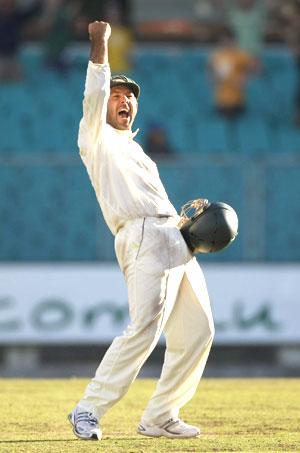 Ponting declared the win one of the side's best in years.
"It's been a great game for us, it's one of our best Test wins in quite a while I think," the Sydney Morning Herald quoted Ponting, as saying.
"Right from the start of the game with the Katich and Watson partnership it set a foundation for a very good Test match. The bowling through the game was as good as it has been in our team for the last couple of years," he added.
Off-spinner Nathan Hauritz claimed his first ever five-wicket haul in an innings in a Test or even first class match with an impressive display to mop up the Pakistan innings on Wednesday.
"What players like him need is just that break-out performance," Ponting said.
"Unless you have got over the line and really done it when it matters you will always have doubts about yourself and whether you can do it and today could be one of those really big turning points in Nathan's career. Let's hope for Nathan's sake this will be a really big kick-start to his Test career," Ponting added.
Hauritz was on a hat-trick at one point, as was Mitchell Johnson in the first over of the day, as Australia rolled through Pakistan to bowl them out eight minutes after lunch and claim a 170-run win.
It was Hauritz's best ever Test performance - especially when bracketed with his highest Test score of 75 with the bat.
"Being able to have a total of 420 to be able to bowl to on the last day just gives you the opportunity to have more attacking fields and allows us to attack in different ways. Also being able to talk to Warney and guys like that has been very helpful," Hauritz told Channel Nine.