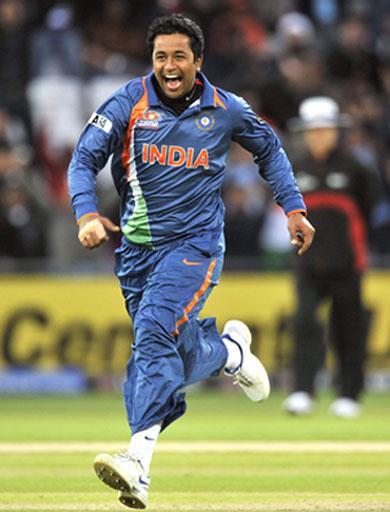 Amidst rumours that he is likely to make his Test debut in the second match against Sri Lanka in place of an unimpressive Amit Mishra, left-arm spinner Pragyan Ojha said he would like to make the most out of the opportunity if given.
Speculations were rife that Ojha will replace leg-spinner Amit Mishra in the playing eleven for the second match of the three-Test series starting Thursday in Kanpur after Indian tweakers pale show in the drawn first Test at Motera in Ahmedabad.
"If I get a chance it will be the biggest moment in my life, I cannot ask for more. No matter what, I will give my best to perform well for the country if given an opportunity. But at the moment I'm keeping my fingers crossed," Ojha said.
With talks of his inclusion in the playing eleven doing rounds, Ojha admitted that he is little nervous.
"I think it's good to be a little bit nervous. It's a very good sign as the feeling brings out the best in you. I joined the team members in Lucknow and exchanged pleasantries with everybody including coach and captain," said the 23-year-old, who joined the team on Saturday after a stint with his Ranji side Hyderabad.
"It was just a friendly talk. Maybe we will discuss about the match in the team meeting. At the moment, I'm looking forward to our net session in the afternoon," added Ojha, who is third spinner in the Indian team for the Test series.
Ojha also backed his senior colleagues in the spin department - Harbhajan Singh and Mishra for their ordinary display in Ahmedabad, saying the Motera wicket had very with little to offer to the bowlers.
"They (Harbhajan and Mishra) have done well in the past for India and they will do well as well. The wicket was favouring batsmen, lot of records were broken, including seven centuries and a record stand by Mahela and Prasanna Jayawardene.
"There is a need to have more true wickets, where it will favour batsmen initially and later the bowlers will get assistance. If it only favours batsmen, then there is no interest left in the match," he said.
"On a flat wicket like Motera where batsmen are scoring runs freely, it becomes difficult for the bowlers," he added.
Ojha made his One-day International debut in the Asia Cup last year and has till date scalped 12 wickets from nine ODIs, with an average of 28. Even though he made some tidy performances in the Asia Cup, he was a bench-warmer for most part of his association with the Indian team.
He was later dropped from India's Compaq Cup team in Sri Lanka tour and subsequently from the Champions Trophy squad earlier this year as well as the just-concluded seven ODI home series against Australia with the selectors preferring Mishra over him.
However, some impressive showing in the Ranji Trophy matches forced the selectors to include him in the Test team against Sri Lanka.
"It's not a very difficult phase but part and parcel of every cricketer's life. There is always ups and downs in everybody's life and likewise I just went through that phase.
I was just focusing on domestic matches and was telling myself if I get a chance I will try to cement my place in the side," Ojha said.
"I have been performing well and consistently. Recently I picked up eight wickets (against Himachal Pradesh). It's just a matter of one match to earn your place back," he said.