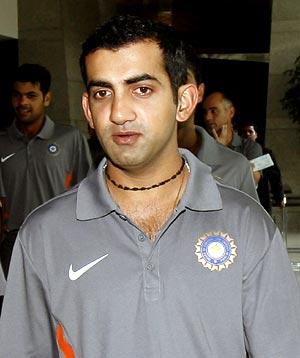 Gautam Gambhir may be a familiar Pakistan nemesis on the field but the aggressive opener threw his weight behind Younis Khan and his men saying it is impossible to believe that they had tanked their matches in the ICC Champions Trophy.
Chairman of the National Assembly Standing Committee on Sports MNA Jamshed Dasti accused the Pakistan players of being involved in match-fixing following their defeat to New Zealand in the semi-finals.
Gambhir, however, came out in support of the Pakistan players and said it is wrong to blame cricketers of match fixing if they end up on the losing side.
"I don't think any professional cricketer would do that, Pakistan, India or any country," said the left-hander.
"After all, cricket has given them everything. Whatever fame they have or whatever they achieved is because of cricket. If you ask me, I don't believe Pakistan intentionally lost that game," Gambhir told a television channel.
The Delhi player attributed it to the frustration of the common fans who just cannot digest the defeat of their team.
"That's the kind of expectation people have in the sub-continent, whether it's India, Pakistan or Sri Lanka.
"They expect you to win each and every game whenever you walk out but it is not possible because you will have some bad days, sometimes you cannot play to your potentials and sometimes you cannot give your 100 per cent," he explained.
"People have to be more realistic. There will be time when things would not go our way and people need to still support the players," Gambhir added.