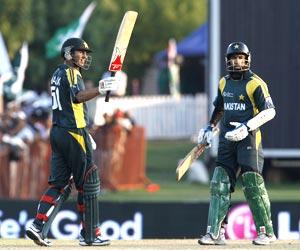 India skipper Mahendra Singh Dhoni held a lacklustre bowling display responsible for his side's humiliating 54-run defeat to Pakistan in their Champions Trophy opener.
"I was feeling not one bowler short but three bowlers short. It was tough to set a field for them," stated Dhoni, after Indian the bowling department conceded 302 runs to Pakistan.
India's frontline bowlers, except for Ishant Sharma, went for too many runs. Off-spinner Harbhajan Singh, who was Dhoni's trump card on the slow SuperSport wicket on Saturday night, conceded 71 runs in his 10 overs, while and RP Singh and Ashish Nehra finished the day's proceedings in the high fifties.
The fourth-wicket Pakistani pair of Shoaib Malik and Mohammad Yousuf pulverised the Indian bowling during their record 206-run stand.
"Whatever field you gave them, it didn't work. You can give the field but can't really bowl for anyone. We bowled very short and gave away a lot of runs towards backward point region. Our bowlers had bowled on bouncy wickets (in the lead-up to the game) and suddenly had to bowl on a track where they needed to bowl up. They didn't adjust," Dhoni said.
Pakistan, at one stage, were tottering at 65 for 3, but the Indian captain said the duo of Malik and Yousuf could capitalise between the 13th and 42nd over mainly due to the listless performance of his bowlers.
"We gave away too many runs. The shots were going in the area when there was no field. It was really tough out there.
"I brought part-timers from the two ends, as I have seen when you bring a part-timer with Harbhajan Singh, the batsmen usually see off Bhajji and milk the other bowler," Dhoni said.
"Besides, I didn't want a situation where a part-timer is brought on after the 40th over," he said.
Asked why Sachin Tendulkar's services were not utilized when the Pakistani batsmen were taking his regular bowlers for a ride, he said, "Tendulkar has a shoulder injury and he can't consistently bowl. He is our main batsman and we don't want him injured."
Dhoni also clarified why Virat Kohli was sent ahead of him at number four position, a move that backfired.
"He is a young batsman and you don't want to put him in a chase situation. When he came in, the scoring rate was very good and it could have allowed him to settle down," he said.
Gautam Gambhir (57) and veteran Rahul Dravid (76) were India's mainstay during their run chase but incidentally both the batsmen fell prey to run outs and Dhoni said it eventually turned out to be critical for his side.
"It's the most cruel form of getting out but it happens. Sometimes when the stands are packed, you don't hear the call of your partner," he said.
The skipper also lamented the loss of Yuvraj Singh as a bowler rather than a batsman.
"Yuvraj bowls six or seven useful overs and today I missed that option."