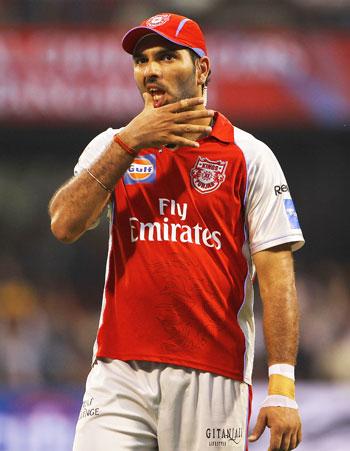 Former Kings XI Punjab skipper Yuvraj Singh has brushed aside reports of friction between him and current captain Kumar Sangakkara, stating he was disgusted and horrified to see such reports coming out.
Yuvraj, who has just scored over 100 runs so far in seven games in the third edition of Indian Premier League (IPL) tournament, said no player under performs at will and added it is not easy to perform coming off injury.
"Media has no right to fabricate stories, they just want eyeballs. To come out of injury is not easy and I hope to bounce back soon. I always try to give my best no matter what the circumstance and right now I am struggling with my form," Yuvraj tweeted.
"It happens to every player. I am disgusted and horrified that a news reporter can stoop down to such a level.
"When you lose everyone opens themselves up to criticism, some fair and some unfair," he added.
Skipper Kumar Sangakkara felt that these stories only crop up when the team isn't doing well. "These stories come out when the team is losing and not doing well. There is no rift," Sangakkara said.
"Of course there is a lot of disappointment when the team is not winning and the key players are not putting up their best performance. But there is not a direct criticism of any particular player or any personnel," he added.