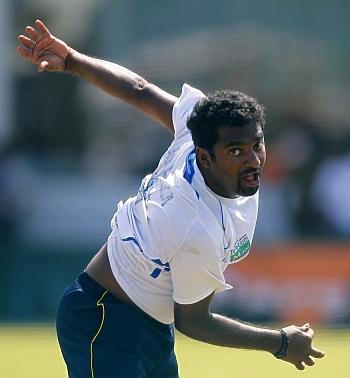 Calling retired spin great Muttiah Muralitharan's outburst against his long-time detractor Bishen Singh Bedi a perfect "parting shot", former Sri Lanka captain Marvan Atapattu said that the iconic bowler brilliantly timed his verbal attack on the Indian.
"Of course, it was with amusement that I read Murali's parting shot at Bedi. It was brilliant timing too," Atapattu said.
"He (Murali) has hardly said anything on his way to 800 wickets and when his work was done with a world record tucked under his belt he came out with this quip in answer to Bedi. Who can take him on? Perfect timing of the ball," Atapattu wrote in The Sunday Leader newspaper.
Muralitharan recently uncharacteristically attacked Bedi, calling the former Indian captain a controversy monger and an ordinary bowler who would have been hammered by any batsman if he was playing now.
An untiring critic of Muralitharan, Bedi has repeatedly called him a "chucker" and asked the ICC to ban the bowler's "doosra" as it was illegal.
The former opening batsman also praised all-rounder Suraj Randiv and hoped that the 25-year-old takes inspiration from Muralitharan to improve his off-spin skills.
"Randiv had a great start to his career and he should develop something new in his armour like Murali did. He would do well, I am certain," said the cricketer-turned-commentator.
Speaking about the just-concluded three-match Test series against India, Atapattu said that the good scores registered by Sri Lankans proved that the country's batting order is now able to handle a strong pace attack.
"In the early 80s through to the 90s people had doubts whether the Sri Lankans could play genuine fast bowling. The local fans, as well as those playing, thought first of the strengths of the opposition fast men. Recall when Duleep Mendis and Sunil Wettimuny were felled by the Australians?
"Funny as it may seem, I can now recall a time when Ashley de Silva and I were 12th and 13th during a Test series in Pakistan when we were more on the field with the magic spray than the eleven picked! Then, players like Aravinda (de Silva) came along and walked up to pacers like Wasim Akram and Jeff Lawson to cart them around the park," Atapattu wrote.
"Today guys like (Tillakaratne) Dilshan sweep fast bowlers! They not only have the skills but their body language shows that they are in control. They score confidently and at a brisk pace too," he added.
Atapattu also made a special mention of batsman Thilan Samaraweera and said he had the right temperament for the longer version of the game.
"I always felt that Thilan Samaraweera had the right attitude and capacity for Test cricket. Thilan is in a different mould. For a guy who scored mostly behind the wicket at the early stages, much to the chagrin of the team management, he has come a long way.
"He was most unfortunate to miss out on a twin century. Sri Lanka is fortunate to have him padding up at five for the team," he said.
"His two elder brothers had greater talent. In fact the eldest, Charmika was outstanding when young but didn't persist. Duleep, the second was unfortunate when he played at a time when the openers were merely meant to see the new ball off. Those were the days," Atapattu added.
On umpires Decision Review System (DRS), Atapattu said he strongly feels that there should be some consistency in its application by the ICC.
"The umpires referral system for one must be uniformly applied to all Tests, irrespective of where it is played and so it should be with the make of balls.
"Some use Dukes and others use Kookaburra or SG. One can accept the starting time of a game depending on the geographical location but other aspects should be uniform in my book," Atapattu said.