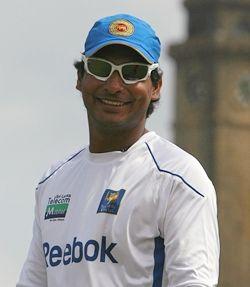 Sri Lanka skipper Kumar Sangakkara adopted a cautious approach ahead of Saturday's tri-series final, saying India have come back strongly despite suffering some of their worst ODI defeats in the league stage, and it will take a special effort from his team to avoid a fifth consecutive final loss to them.
"They (India) have lifted themselves for the finals and they have outplayed us on many occasions. There have been questions asked about the toss -- whether that was an advantage? I don't think," Sangakkara said at the pre-match press conference.
"You must give credit when a side wins consistently. That means they are used to that. We have been to a lot of finals as well. We have just got to make sure that we lift ourselves tomorrow for a special effort," he added.
India lost by a massive 200 runs to New Zealand and were handed an eight-wicket thrashing by Sri Lanka after being dismissed for a mere 103. But history still favours the Indians, as they, most recently, defeated Sri Lanka in the Asia Cup final in June.
Sangakkara said his team watched India's last league encounter, against New Zealand, closely, in which they bounced back to seal their berth in the final.
"I think they performed very well. They took advantage of the conditions and managed to put pressure on the New Zealanders. We watched that with interest and it is something to think about when we go into the game. How they bowled, the lines and the way they (Indian bowlers) attacked," he said.
Asked whether the Lankans have any specific plans for Sehwag, who stood out with a match-winning hundred against New Zealand, Sangakkara replied, "I think a lot of people have tried lot of plans. He is an excellent player. So if you get him early I think it is an advantage. It is just sticking to basics and good line and lengths to him," he said.
The 'no-ball controversy' has added a rare spark to the contest, but Sangakkara said the players' focus is cricket, although crowds will come looking for a bit of drama.
"It has been a matter of debate whether there has been too much or too little, or how much is enough or how much is good. We as players we want to play cricket and India-Sri Lanka has had a great rivalry for a very long time.
"I think there has been one specific incident with the no-ball. I think the players from both the sides have got on with their jobs pretty well. But you know cricket always depends on the entertainment value. So, if the spectator values good cricket and his interest is heightened unfortunately because of an incident, so be it," he added.
Sangakkara said he has become a mentally tougher captain, who can keep his calm in adverse circumstances.
"You can't expect everything to go your way and have things easy. The tougher it is, the entire side has an opportunity to show character, build character and become mentally tougher. So I think our side is well on the way and let us see how we progress tomorrow and after tomorrow, in the next few months as well," he added.
Asked whether the six-day break before the final would adversely affect the team, he said, "It is a question that we will have to answer tomorrow on the field. I think when you are going well it is nice to keep going in important games. But before the tournament started we knew the schedule. So there are no complaints from our side.
"I think when you start complaining, it is a very negative thing. You just get on with your job, be a professional. If you cannot get over a six-day break then I don't think you have got anyone to blame other than yourself," he said.
He refused to underestimate the currently struggling Indian middle-order.
"Even when you are struggling, you can score enough runs for your side to win. It does not matter whether one batsman or two batsmen fail; that is why we play seven batsmen. Everyone has got to pull their weight.
"If they can do it as a team, no one particular player needs to shine. Because if you score a hundred and still lose, you lose. I think everyone in our team is aware of that and we will fight every inch of the way tomorrow to see whether we can get there," he said.