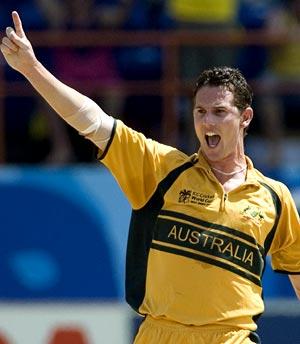 He has never seen it for himself but Australian pacer Shaun Tait [ Images ] says there is no denying that all teams indulge in ball tampering.
Backing Shahid Afridi's [ Images ] claim that all teams tamper with the ball, Tait said though he is yet to see it himself, there is little doubt that such cheating tactics are not new in international cricket.
"It probably goes on, but I have never seen it with my own eyes," Tait was quoted as saying by The Herald Sun.
"I am sure there could be players that do it, but not that I have seen. I have never engaged in biting the ball,' he said.
Afridi, a former team mate of Tait in the Australia [ Images ]n T20 domestic competition, was banned for two Twenty20 [ Images ] games after being caught biting the ball during a one-dayer against Australia in Perth.
Former wicketkeeper Adam Gilchrist [ Images ] feels such offences need to be dealt with strictly to set an example for others.
"I think what we saw on Sunday night in Perth and also in the England [ Images ] and South Africa [ Images ] series is that this is an issue that must be dealt with sooner rather than later," Gilchrist said.
"There is simply too much weight of evidence that it's occurring. I have no doubts that anyone caught should face extremely serious ramifications and punishment.
"It's up to the players to make the call on this one and say this simply cannot be tolerated," he added.