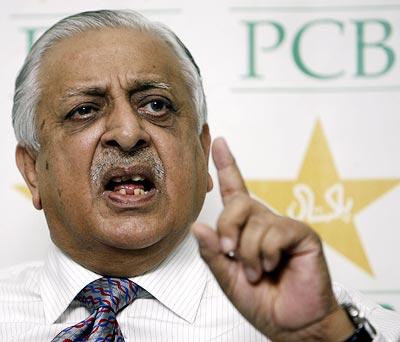 Pakistan Cricket Board (PCB) chairman Ejaz Butt resisted a call for his resignation on Wednesday during a parliamentary committee hearing into PCB affairs and the national team's poor performance on their tour to Australia.
"Why should I resign, all these allegations they are making against me, they should prove it first then I will resign," a defiant Butt told reporters after the hearing of the National Assembly standing committee on sport, held in Islamabad.
"The chief patron (Pakistan President Asif Zardari) appointed me and only he can ask me to go. If he says go, I will go in five minutes," Butt added.
Head of the parliamentary committee Jamshed Dasti told media he has asked the 71-year-old Butt to resign and let Pakistan cricket move forward under a young leadership.
PCB director-general of cricket Javed Miandad said governing council members had told the hearing they were not taken into confidence by Butt while making important decisions.
"I am bypassed on every important matter," former Test captain Miandad reporters. "My position as DG cricket is a mere title nothing more. But I want to do more for Pakistan cricket."
Pakistan were swamped 3-0 and 5-0 in the recent Test and one-day series against Australia.
Captain for the tour Mohammad Yousuf, who returned to Pakistan on Wednesday, told reporters he has no intention of stepping down.
"It is true we didn't perform well but it was a tough tour and I did my best. I want to continue as captain if the board wants to remove me that is their choice," Yousuf said.
The batsman took over as captain in November for Pakistan's tours to New Zealand and Australia after Younis Khan decided to take a break from international cricket.