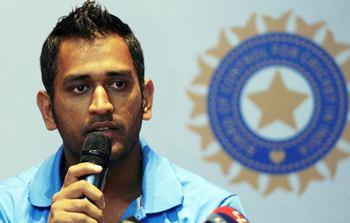 Attending a press conference featuring Mahendra Singh Dhoni is increasingly becoming a predictable affair.
Blame it on the excessive cricket happening these days.
The answers of the Indian captain give a 'heard-this-somewhere-before' feeling. His explanations tread the oft-repeated path and you can judge in advance when Dhoni will hold back his response or give a guarded reply.
Even his wisecracks can be anticipated to an extent.
The Indian captain is not to be blamed entirely for this predictably though. On more occasions than one the questions from the media are as predictable for the captain as are his answers (all thanks to the non-stop schedule of the Men in Blue).
The pre-match conference on Friday -- ahead of the opening Test against South Africa in Nagpur on Friday -- was no different.
The first question was pertaining to VVS Laxman's availability for the game. The captain was expecting it and hence had a readymade two-line answer.
"Uncertainty still remains as regards Laxman playing in the game," he said, adding, "He had a good session at the nets but is yet to tell us if he is feeling comfortable. We will take a call on the final eleven tomorrow morning."
The next question was a related one. With key players like Rahul Dravid and Yuvraj Singh already out, and Laxman in doubt, the Indian batting line up looks considerably depleted.
"The weakened batting line up is something beyond our control," explained the captain. "But some of the youngsters have to step up and take more responsibility."
Then there was the question that we have heard a lot in the last couple of months. Is India under pressure going into the series considering their top ranking?
"Being the No.1 side in the world doesn't play on our mind," pat came the reply. A little bit of elaboration followed. "We are keen to do well on the field. For us it is more important to play to our potential than bother about the rankings.
"Wherever we play, even against teams like Bangladesh, we are under pressure. So we are used to it," added the captain.
Next there was a fresh question (for a change).
Considering it is a series involving the top two sides wouldn't the captain be happy with more Tests than just two?
"I think even these two Tests weren't scheduled," Dhoni replied, adding, "So we are happy that at least we are getting to play a couple of Test matches. Expecting a third Test would have been a bit greedy." 
There were a few other questions regarding the nature of the wicket, the Indian fielding, batting and bowling, even about reverse swing. But the captain's replies aren't different enough to waste words.
You would have probably guessed it by now; the answers were as predictable as the above questions.
Blame it on the excessive cricket happening these days.