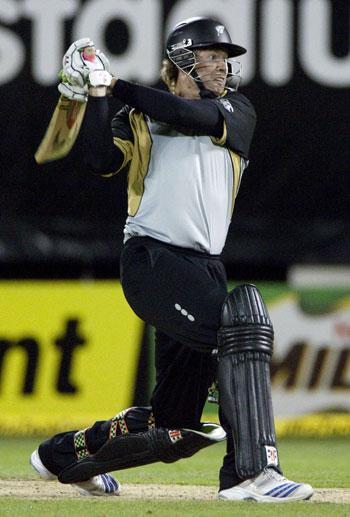 A superb all-round display from Jacob Oram helped New Zealand crush Bangladesh by 146-runs in the opening One-day International at Napier on Friday.
Oram smashed the Bangladesh attack all around the ground for a rapid 83 off only 40 balls before going on to take two wickets as the tourists slumped to defeat.
Once reeling at 135 for five in the 27th over, Oram's rout helped power New Zealand to 9-336.
His was the fourth half-century of the innings, and the most eye-catching, while Neil Broom hit a career best 71 off 73.
Oram and Broom combined to heavily punish the Bangladeshis in a quickfire seventh wicket stand of 123, the best for New Zealand against all nations, surpassing the 115 scored by Adam Parore and Lee Germon against Pakistan in 1996-97, The Age reports.
New Zealand also had key contributions from Peter Ingram, who made 69 on his ODI debut, and Ross Taylor's 51 from 52 balls.
Bangladesh's reply got off to a good start, as opening pair Tamim Iqbal and Imrul Kayes put on 71 for the first wicket, but when Kayes (33) was caught by Brendon McCullum off Andy McKay, the momentum was lost.
Skipper Daniel Vettori then claimed three for 33, Martin Guptill picked up two for seven and Oram backed up his batting with two for 33 as the visitors were bowled out for 190.
Scorecard:
New Zealand
B McCullum run out 0
P Ingram c M Ashraful b S Islam 69
M Guptill c R Hasan b S Hossain 2
R Taylor c Mahmudullah b N Islam 51
J Franklin c M Rahim b S Islam 2
N Broom run out 71
D Vettori st M Rahim b Shakib 32
J Oram b S Islam 83
T Southee b S Islam 0
D Tuffey not out 10
A Mckay not out 3
Extras (b-1, lb-2, w-10) 13
Total (9 wickets; 50 overs) 336
Fall of wickets: Fall of wickets: 1-1, 2-19, 3-117, 4-120, 5-135, 6-187, 7-310, 8-310, 9-328.
Bowling:  S Hossain 9-2-56-1, N Hossain 9-1-78-0, S Islam 10-0-68-4, Shakib 9-0-62-1, N Islam 10-0-51-1, Mahmudullah 3-0-18-0.
Bangladesh
T Iqbal c B McCullum b D Vettori 62
I Kayes c B McCullum b A McKay 33
M Ashraful c B McCullum b A McKay 5
R Hasan  lbw b D Vettori 9
Shakib c T Southee b D Vettori 8
M Rahim c B McCullum b D Tuffey 8
Mahmudullah c A McKay b J Oram 23
N Islam c B McCullum b M Guptill 15
S Hossain c J Franklin b J Oram 1
S Islam c R Taylor b M Guptill 11
N Hossain not out 0
Extras (b-2, lb-2, w-9, nb-2) 15
Total (all out; 43.5 overs) 190
Fall of wickets: Fall of wickets: 1-71,2-84, 3-118, 4-119, 5-133, 6-144, 7-167, 8-173, 9-190.
Bowling:  D Tuffey 7-1-39-1, T Southee 7-0-34-0, A McKay 8-0-40-2, J Oram 9-0-33-2, D Vettori 10-0-33-3, M Guptill 2.5-0-7-2.