Scoring a maiden double hundred is a special occasion for any batsman.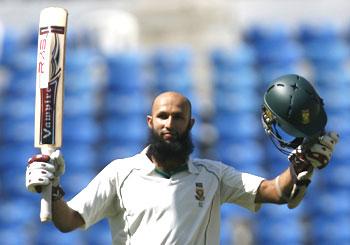 And getting it on foreign soil after having come in to bat in a situation that is not entirely favourable makes the innings more special - it's a hallmark of the batsman's fortitude and resilience.
Hashim Amla's unbeaten 253 in the opening Test against India at Nagpur on Sunday is one such knock. No wonder the batsman was satisfied (and elated) with his effort.
"Scoring a double ton is nothing short of a momentous occasion," admits Amla, adding, "And personal milestones definitely give a fantastic feeling."
But the 26-year-old is quick to point out that it is the team (and its interests) that comes before the person (and his landmarks).
"The most important thing was to get the team to a winning position," explains Amla. "My gameplan was to try and set the tone for the team, to try and keep things as simple as possible.
"Batting for the whole day for two days is definitely something that pleased me the most," he adds.
It wasn't the first occasion that Amla had scored big on India soil - his mammoth 159 in the opening Test at Chennai during South Africa's last trip is still afresh in public memory.
However, this was just a more resolute knock, one that highlighted how much he has matured as a player in the last few years. Asked what he has learnt as a player over the years, Amla's reply was simple.
"The whole learning curve is all about having gameplans ready for every situation and staying focused when you are going through tough periods," said the soft-spoken batsman.
His maiden double ton not only eclipsed his previous highest Test score - an unbeaten 176 against New Zealand at Johannesburg in 2007 - by a considerable margin but also helped him become only the second South African batsman to score a double hundred against India - after AB de Villiers' spectacular 217 not out at Motera in 2008.
Palpably it impressed many, from his team and outside. Gary Kirsten, who had worked with Amla in his formative years, was generous in his praise.
"I have always thought he is a fine player," said the Indian coach. "He knows how to bat longer periods and I knew that a day will come when he will get the big hundreds.
"Today he proved that to all. It was a superb knock," he added. Amla's team-mate, Jacques Kallis - with whom he shared a record 340-run partnership for the third wicket - was impressed as well.
"He has come a long way," observed Kallis, adding, "He is a calming influence on the team and gives our side an additional option."