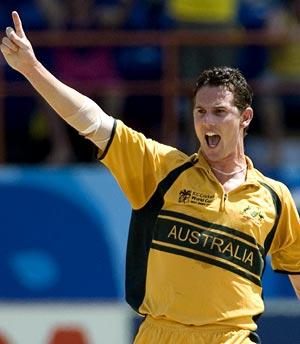 Australian fast bowler Shaun Tait said that his focus on short, sharp spells is the factor behind his speed and he is confident of pushing the radar gun further.
Tait thrilled a crowd of 60,054 at the MCG during Australia's Twenty20 game against Pakistan on Friday, when he consistently bowled above 150kmh, and with his third ball notched the fastest delivery recorded in Australia - 160.7kmh.
The 26-year-old said that he was keen to surpass the record set by Pakistani fast bowler Shoaib Akhtar, who unleashed a 161.3kmh delivery in the 2003 World Cup.
"You have probably only got two balls in a game where you can do it and then after that it's hard to get back up to that pace," The Age quoted Tait, as saying.
"It is a pretty hard task, that's an amazing record, so we'll see how I go. Keep pushing. I'm not sure how Shoaib bowled whatever he bowled, that's amazing," he added.
He further justified his decision not to play first-class cricket, in order to concentrate on his form and fitness for the Twenty20 World championship to be held in Caribbean.
"Looking back on it now, the decision that I've made at this stage to play the shorter form of the game has been a pretty solid one," Tait said.
"I've been fresh for the majority of the games this season, apart from a couple maybe. That just goes with it, everyone gets sore. I'm really enjoying the shorter form, the Twenty20s," he added.