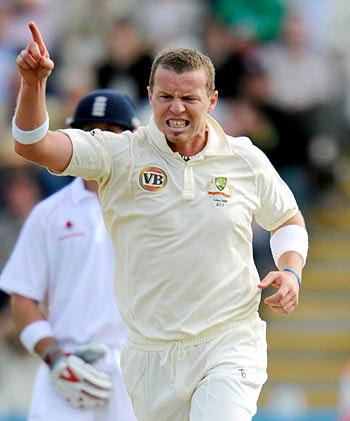 A back injury has sidelined Peter Siddle for five months but the Australian paceman insists that it has nothing do with excessive workload. Siddle has to undergo a three month rehabilitation before considering a return.
The Victoria fast bowler hoped of coming back stronger and fitter.
"I had stress fractures when I was about 18 or 19 and at the time obviously it was difficult but recovery went well and in the end I was back and playing that following year.
"It didn't hold me back at all and in the end it got a lot stronger, a lot fitter and worked out the best for me," Siddle said.
He dismissed suggestions that workload had caused this injury rather he described it as gradually worsening problem. "Every time you go out on the field there's a chance you can get injured, whether you're a batter or a bowler. I don't think it's just me, it could happen to anyone in any game.
"But it's definitely not the workload. Personally I hadn't played much cricket coming into the last two years so for me it was more cricket than I'd ever played before.
"But the schedule was no different to what it had been over the past five or six years so that's definitely not a part of it," he was quoted as saying by Sydney Morning Herald.
"I came back from South Africa and missed the One-dayers there and missed the One-dayers in Dubai to rest up and I came back from India early as well.
"I had a little bit of pain and at the time we thought it was a strain but I could still bowl. But it just got to the point where I was in a lot of pain and just couldn't keep on going," Siddle added.
Siddle said he was not sure about his return but will be out of action until next summer's domestic season.