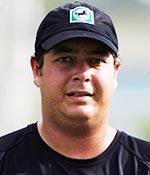 New Zealand batsman Jesse Ryder will go under the knife next week to try and repair his abdominal injury, which has kept him out of game for five months.
Ryder has had a setback in his fight to regain full fitness from the injury, a tear of the rectus abdominis, suffered during the Champions Trophy in South Africa last September.
It has not responded to his rehabilitation programme and the surgery is aimed at providing support to the lower part of his abdominal wall.
"It is a very complex injury and unfortunately has not responded as well as we would have hoped," The New Zealand Herald quoted physiotherapist Kate Stalker, as saying.
The decision has been after seeking expert opinion from England and South Africa, as well as regular assessments from NZ Cricket medical staff.
"On Wednesday he was assessed again by a team of consultants in Auckland who recommended the abdominal procedure," Stalker added.
Stalker further said that she looking forward to having a fully fit and firing Ryder for the World Cup in India, Sri Lanka and Bangladesh in 13 months' time.
No amount of game time has been specified for Ryder to complete before his return, but Stalker is optimistic that he can be ready in time for the Twenty20 world championship in West Indies.