As a leader, you are expected to lead from the front and set a benchmark and that is what exactly South Africa captain Graeme Smith intends to do.
The left-hander fractured the little finger on his left hand during fielding practice at the Eden Gardens in Kolkata, on Friday, but he is not ready to give up yet.
All indications are that he might play the crucial second and final Test against India, starting on Sunday, with the visitors needing just a draw to clinch the series and reclaim the number one ranking in Test cricket.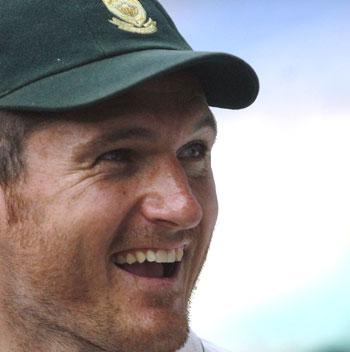 "There is a fracture in one joint of the small finger on the left hand side. It really is about dealing with pain from that perspective. I am pretty confident that I can deal with the pain and stuff and get through but until you have done it, it's hard to say," Smith said in Kolkata on Saturday.
Smith has been plagued by finger injuries in the recent past and he reckons he knows how to overcome the problem.
But at the same time he admitted his only problem is to gauge how much the injury would handicap his batting in the Test match.
"I have certainly in the last two years had a few pain issues to deal with and I have got through them reasonably well. There is a good medical staff here that you can trust and you just get stuck in.
"I think the big question is whether you will be able to contribute and give your best for the team and that is the question you need to ask yourself, especially as the leader.
"The objective is to contribute and to be as professional as you ask a lot of the players and you need to be able to compete to that level. Those are the things that I guess personally you need to answer going into the Test match and make hopefully the right decisions," he said.
For South Africa, it is a case of learning from their previous mistakes in 2008 and not letting the opportunity of a series victory slip by this time. The very thought of a Test series victory in India had added that extra motivation into his team's preparations for the Kolkata match, he admitted.
"As I said before, not many teams get the opportunity to win series in India. On our last two tours, we have had that opportunity now. Going into the Eden Gardens Test match, we are 1-0 up in the series. For most cricketers, it is a lifetime opportunity to win a series in India and that is something that like I said we want to tick off as a team and something that we are motivated to achieve and something we are excited about," Smith said.
He pointed out that the secret of Dale Steyn's success as a fast bowler lay in the fact that he is quick to adapt to different conditions very quickly.
"Dale has been consistently really exciting, really good over the last couple of years. You can't argue with performances he has put in around the world. He has been able to adapt to all the conditions that he has played in and the attack around him has adapted to the roles around him which has allowed him to play his role.
"I just think he has matured a lot, the way he has grown into this whole himself as a cricketer, the way he thinks about the game and obviously the skills he has got is a great asset to have."
Smith is also unsure on whether Gautam Gambhir deserves to be the top ranked Test batsman in the world and said he should prove his batting prowess outside the sub-continent too.
"In terms of Gautam, he's a batter that has played a lot in the sub-continent. He has done well here; he is a good player of spin. His Test is going to be how he travels with world. That's going to be his test," he said.
Once again the visitors were quick to ward off any doubts about the pitch on offer, saying it is distracting the Indians more.
"Obviously, there has been a lot of talk around the wicket. I haven't seen it today but it looked pretty good yesterday. I am sure it will be a pretty good wicket, it always is here. Good Test wickets. Let us hope that there are little things like that that will distract the Indians a little bit, it will definitely help us," said Smith.
South Africa's last series victory in India was way back in 1999-2000 under Hansie Cronje.
The visitors are no doubt keen to end the long wait for another series and also return to the top of the ICC Test rankings. For India, it is once again not only about silencing their disgruntled critics but also holding on to the top ranking for a little bit longer.