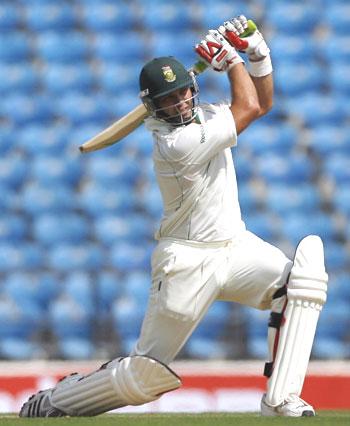 South Africa's [ Images ] veteran batsman Jacques Kallis [ Images ] believes that his team would fightback from the dead and bat out a draw on the final day of the second and final Test in Kolkata [ Images ].
The Proteas finished a rain-restricted fourth day on which a little more than a third of the overs could be bowled on 115-3 for an overall deficit of 232 runs with 98 overs left to play.
Crucially the Proteas have lost three key wickets including Kallis but the batting hero of the tour, Hashim Amla [ Images ] (49 not out) is still at the crease in partnership with Ashwell Prince [ Images ].
"Hashim has been in great form so obviously he needs to keep that going and I know that he is hungry to do that," commented Kallis.
"It is also a great time for JP and Ashwell to turn it around. What better time to do it than on an important day like this? They have done it on occasions like this before and they can turn it around. Tomorrow is a day for heroes."
Kallis said it is important for the rest of the team to learn the lessons that Amla had taught on this tour.
"The biggest lesson of all is when you are in good form not to give it away. He is mentally a very strong player and he has excellent powers of concentration. He knows his game plan very well and he has executed it brilliantly. There are some valuable lessons there for all players around the world."
Kallis remains upbeat that the Proteas could bat out the day, particularly if they continued to play positively and put India [ Images ] under pressure by wiping out their overall lead.
"We feel we can bat out tomorrow, just take it a ball at a time and be positive. The wicket is still very good for batting. There is a little bit of turn but not as much as you normally come across on day five on the sub-continent.
"There is not much there for the seamers either so certainly as far as batting conditions are concerned it is a good wicket to play on. There is a little bit more bounce for Harbhajan than there was at Nagpur. It is probably slightly quicker but there is not a lot of turn. We have played spinners well in the past and there is no reason why we can't do it again tomorrow," he added.
If the Proteas can get through for a draw they will regain the No. 1 ranking on the ICC [ Images ] Test rankings, a position they held briefly from the time Australia [ Images ] lost the Ashes in England [ Images ] until India took it away by winning their recent home series against Sri Lanka [ Images ].
One worry for India is that their bowling spearhead, Zaheer Khan [ Images ], spent time off the field on Wednesday and his fitness to bowl a significant number of overs will be important.