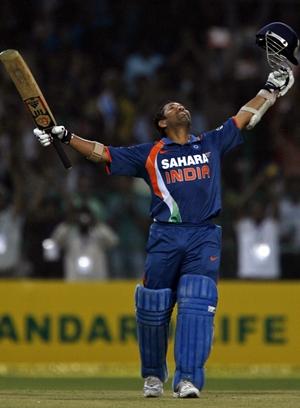 Milestone man Sachin Tendulkar said he sensed he could be the first batsman to hit an ODI double century only after he got to 175, in the second one-dayer against South Africa in Gwalior on Wednesday.
Tendulkar, whose unbeaten 200 earned him a slice of one-day history, said he was merely content with striking the ball well early in his innings. It was only in the final eight overs that he felt he stood a chance to re-write history.
"In the first half an hour, I was striking the ball well and timing well. The ball was coming nicely on to the bat," Tendulkar said after India beat South Africa by 153 runs.
"I was not thinking about it all along. It was only when I crossed 175 and realised that it was still the 42nd over, I felt I have an opportunity. So I decided to take singles and give strike to (Mahendra Singh) Dhoni. who was hitting so well," said the batting great.
On his epic knock, Tendulkar said, "I don't know how to react. I'd like to dedicate this double hundred to the people of India for standing behind me for the last 20 years, come what may."
The Madhya Pradesh Cricket Association gifted Tendulkar a silver bat apart from Rs 10 lakh and announced that a pavilion in the Captain Roop Singh Stadium would be named after him.
The Mumbai batsman said he expected India to score somewhere in the vicinity of 340-350, but it was the big-hitting spree of Dhoni and Yusuf Pathan that guided the team to 401 for three.
"I felt a good target was around 340-350. We had some fantastic batting by Dinesh Karthik, Yusuf (Pathan) and MS. If you look at the partnerships, every over there was a big shot played. Yusuf changed the momentum and MS finished well," Tendulkar said.
His captain Dhoni lavished praise on him and felt promoting Yusuf had paid off for the team.
"Once Viru got out it was important to get some runs. Dinesh and Sachin batted really well, they went on with the innings. We were eyeing 350 when they were going strong. But Sachin batted through the innings and he played really well, using the pace of the ball when he got tired," he said.
"Yusuf was sent up the order and with the talent he's got, he can be a great asset to the side. He needs to be given confidence," Dhoni explained.
His counterpart Jacques Kallis had no qualms in admitting that the South Africans just could not make a match of it.
"The toss was quite vital. Our basics were just weren't good enough today. We were outplayed. We lost wickets at
crucial stages, or basics let us down. A fantastic innings by Sachin. He took advantage of some good conditions and he played superbly. We let us down in some areas," Kallis said.