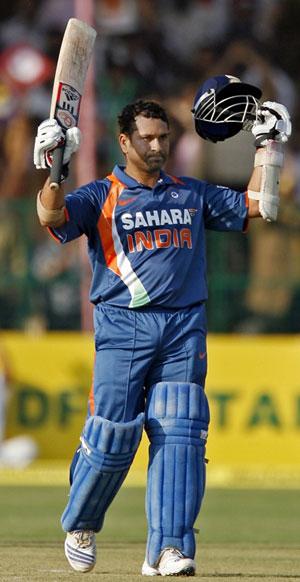 Master batsman Sachin Tendulkar said records are meant to be broken and he would be glad to see an Indian eclipsing his epic unbeaten 200 that he smashed against South Africa in Gwalior on Wednesday.
Tendulkar became the first cricketer to hit a double century in the four-decade-long history of One Day cricket but the Indian reckoned even this record would be bettered some day.
"No record is unbreakable. Records are made to be broken and I would like to see an Indian breaking this record," Tendulkar said, dedicating the knock to all his fans.
The greatest accumulator of runs in the history of cricket, Tendulkar possesses nearly all major batting records even though he insisted he never chased milestones.
"I do not play for records. I play for enjoyment and for my passion for the game. I did not start playing cricket for breaking records. It has happened over the time. But it feels great," Tendulkar said.
Tendulkar has been in brilliant for since the 2007 World Cup and the batsman attributed his success to coach Gary Kirsten.
"I have enjoyed challenges. I have enjoyed the game 2007 onwards and credit goes to Gary. He has held the team beautifully, it's about holding the team together. Even at the practice, he has worked as hard as players and probably harder than anyone else. Things have been good," he said.
Asked if the presence of more match-winners in the side had eased his pressure and allowed him to play freely, Tendulkar said, "Not really. I have done well in the last 20 years. It's not that I have done well in the last one year."