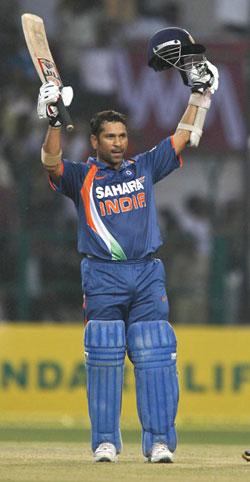 Eulogising milestone man Sachin Tendulkar for his historic One-Day International double hundred, India's star off-spinner Harbhajan Singh reckons his illustrious team mate is better than Australian great Sir Don Bradman.
Harbhajan could not witness the record-breaking double century as he skipped the first two matches of the series due to his sister's wedding.
"I am short of words to praise Sachin. Some players compared him with Don Bradman. Although I have not seen Bradman playing but I am confident, he (Sachin) is better than him for which his records speak," Harbhajan said on Saturday.
The off-spinner said Tendulkar's hunger for runs and amazing focus makes him an altogether different cricketer.
"Even after scoring 150 in the ODI, Sachin never looks tired and keeps his focus on the game. I have learnt a lot from him, be it on ground or in dressing room. I always observe how he prepares himself for every match," he said.
The temperamental spinner is disappointed that he could not witness Tendulkar's achievement in Gwalior due to
prior family commitments.
"I am unfortunate, as I was not there on the ground to witness one of the historic moments. But Sachin's performance definitely added to my happiness during the family function.
"I was busy in the family function, when one of my relatives came with the news of Sachin's double century and I could not stop myself from dancing," he said.
Harbhajan also said the Indian Premier League (IPL) will help the team prepare well for the ICC Twenty20 World Cup in Caribbean but cautioned the players not to pick up any injury during the mega event.
The World Cup will begin on April 30 in the West Indies, 15 days after the conclusion of the third edition of the IPL.
"The Indian squad is strong enough to deal with the challenge of any team and they will get an opportunity to sharpen their skills in the IPL.
"However, the players will have to be careful in IPL tournament to avoid injury, which may prove costly to the prospects of Indian team in the World Cup," he said.
India, who won the inaugural World Twenty20 title in 2007, failed to repeat the performance in the next edition of the tournament. The Indian team could not progress past the Super Eights stage but Harbhajan hoped success will not elude them this time.
"Although last time we could not perform well but this time it will be a different story," he said.
Talking about Mumbai Indians's prospects in the IPL, Harbhajan said his team has a good chance this year with the inclusion of talented youngsters like Kieron Pollard, R Satish, Tejinder Pal Singh and Ambati Rayudu.
On his own performance and target after getting 350 wickets in Test cricket, Harbhajan said, "Kapil Dev has taken 434 wickets, I will try to match that."
"I cannot compare myself with Kapil Dev. He is one of the most successful cricketers India has produced so far," he added.