Bangladesh batsman Mahmudullah Riad on Tuesday said he is a Mahendra Singh Dhoni fan and wants to bat like the charismatic Indian captain.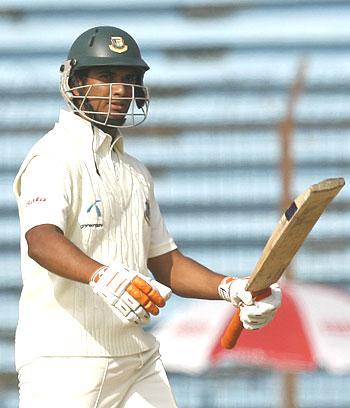 Asked who his batting role model is, Mahmudullah said, "Dhoni is my role model. It is not that I imitate his batting but I want to bat like him."
Mahmudullah top-scored for Bangladesh, with a defiant 69, as the hosts managed 242 runs in their first innings against India.
Mahmudullah, who was in good form in the just-concluded tri-series in Dhaka, said his side would look to take early wickets on Wednesday and put the Indians under pressure.
"We want to take early wickets tomorrow using the foggy conditions and moisture on the pitch and put the pressure on the Indians. (Left-arm spinner) Shakib Al Hasan is there and (pacer) Shahadat Hossain is also there for us," he said.
Shakib and Shahadat had claimed five wickets each to bundle India out for 243 on Monday. In reply, Bangladesh were all out for 242 on Tuesday before India made 122 for one at the close of play.
Asked what transpired between him and keeper-batsman Mushfiqur Rahim during their 108-run stand for the seventh wicket, Mahmudullah said, "Not much. I said just be positive and hit the bad balls."
Asked if he wanted to bat higher the order as he has been in good form scoring lots of runs, he said, "The team management want me to bat at number eight and I am doing that. I am happy batting at number eight."