- Scorecard: India - Bangladesh, 1st Test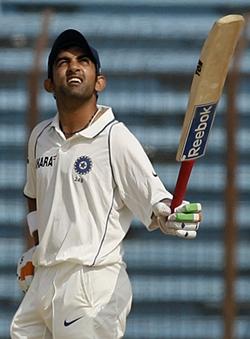 Gautam Gambhir became the fourth batsman to hit centuries in five straight Tests as India took control of the first Test against Bangladesh at the Zohur Ahmed Chowdhury stadium, in Chittagong, on Wednesday.
The Delhi opener matched the feat achieved by Don Bradman, Jacques Kallis and Mohammad Yousuf, scoring 116, as India declared their second innings on 413 for eight.
Chasing an improbable 415 for victory, Bangladesh were precariously placed at 67 for two at stumps on day four. They need 348 runs more to win the Test, with eight of their second innings wickets intact.
The Indian seamers -- Zaheer Khan and Ishant Sharma in particular -- had the Bangladesh batsmen on the mat early on in their second innings and the ensuing pressure resulted in a couple of wickets that the visitors so desperately sought before the end of the day's play.
In what was a complete reversal of fortunes, the hosts, who had dominated for much of the first two days, are now struggling to save the match, while simultaneously hoping for some good fortune (read bad light, weather et al).
The highest total Bangladesh have scored in the fourth innings is 413, against Sri Lanka in December 2008, and that was in a lost cause -- they were chasing a 521-run target.
And going by the fourth day's happenings, this one looks to be heading in the same direction -- yet another Test defeat for the hosts, unless they pass what would be an ultimate test of character.
Tamim Iqbal and Mohammad Ashraful were unbeaten on 23 and 16 respectively when stumps were drawn (after 18 overs). Both of them scored some fluent, well-timed boundaries during the day.
But the duo, as well as the rest of the batsmen, have a tough ask ahead on the final day to save the Test, let alone try and win it.
Morning session (137 runs, 31.4 overs, three wickets):
After a by-now-familiar delayed start -- albeit play started much earlier than it had in the first three days -- Shakib Al Hasan opened the bowling for the hosts, returning to complete the over that was cut short after only two balls on Tuesday.
The Bangladesh skipper, who had taken out opposite number Virender Sehwag (45) a day earlier, employed a slip, a silly point and a forward short leg for night-watchman Amit Mishra, but the latter survived.
Gambhir, on 47 overnight, completed his 11th Test fifty with a single off Hossain in the day's second over.
The Delhi batsman also became only the third player ever to hit 10 successive 50-plus scores, just one behind the legendary Viv Richards.
A few overs later, he (then on 55) was dropped at short leg by Imrul Kayes off Shakib, the fielder failing to react quickly to an inside edge.
Soon Gambhir and Mishra completed a surprising 50-run partnership for the second wicket, the latter (24 overnight) batting with amazing confidence and well within his limitations.
Rubel Hossain was introduced into the attack, in the 34th over, in place of Shahdat, and Gambhir used the over to free his arms. A slash to the third-man boundary was followed four balls later with another boundary to fine leg. Rubel's first over of the day yielded 12.
Rubel's expensive over meant Shakib, who had rested himself for an over and in came Mahmudullah, had to return from the other end.
And the impact was immediate. Mishra edged his first ball to Shahriar Nafees at first slip only for the latter to put it down and guide it to the fence.
Two balls later, Mishra edged again. However, on this occasion the ball stopped just short.
Mishra, who has nine first class half centuries to his credit, used the good fortune to his advantage and completed his maiden Test fifty with a single off Mahmudullah.
However, just three balls after reaching his fifty he spooned an easy catch to Tamim Iqbal at mid-off and Mahmudullah got his first wicket of the match.
Besides reaching a personal landmark, Mishra was also involved in a 98-run partnership for the second wicket with Gambhir.
The latter soon went on to complete a personal milestone -- his ninth Test hundred -- with a huge six over long-on off Shakib.
The left-hander now has the five centuries in his last five Tests, joining an elite list that includes names like Jacques Kallis and Mohammad Yousuf.
Only the legendary Sir Don Bradman has a better record -- six centuries in successive Tests.
It was also the 28-year-old's second century against Bangladesh, his first -- 139 in December 2004 -- coming on his Test debut on the same ground.
But he perished soon after, top-edging a Shafiul Islam delivery to Nafees at third man to give the bowler his maiden Test wicket. India 233 for three after 48 overs.
Gambhir's 116 came at almost a-run-a-ball (129 balls) and consisted of 10 hits to the fence and a huge one over it -- one which helped him reach his hundred.
Dravid made 24, inclusive of three boundaries, before Shakib ran him out with a direct hit from midwicket. India 245 for four.
Laxman hit two exquisite boundaries to make a good start to his innings.
Resuming on 122 for one, India reached 259 for four (after 54 overs) at lunch.
Post-lunch session (125 runs, 27 overs, three wickets):
The Indian batting in the second session was akin to what it was in the first -- a combination of aggression and consolidation.
Sachin Tendulkar (16) was dismissed soon after lunch. He tried to give India the momentum straightaway after the interval with a couple of boundaries off Rubel Hossain, the first a deliberate edge through the vacant second slip and then again to the midwicket two balls later.
But the bowler had the last laugh, trapping the Master Blaster plumb in front in his next over. India were reduced to 272 for five.
Yuvraj Singh, who had made just 12 in the first innings, got off the mark with a boundary off the first ball -- a leg glance that went past the keeper.
But Bangladesh had done their homework on the left-hander -- with both the Hossains (Rubel and Shahadat) repeatedly attacking him with short balls and trying to take advantage of that weakness.
Rubel in fact almost got reward when Yuvraj edged one to first slip. Only umpire Erasmus remained unconvinced. Television replays later suggested the South African was right.
India reached the 300-run mark in the 65th over.
But Yuvraj was dismissed soon after. He made 25 before Mohammad Ashraful caught him at short cover off Shahadat in what can be termed a soft dismissal. India 313 for six.
Dinesh Karthik, on a pair, avoided the ignominy with a single to deep square leg.
The Tamil Nadu wicketkeeper-batsman then hit two exquisite boundaries off Shahadat, the first neatly guided towards the third man and the second past the bowler to the long-on.
However, he survived a loud appeal when he attempted to reverse-paddle off Shakib and the short leg fielder caught the ball. Again the television replays vindicated Erasmus' decision.
This didn't deter Karthik from trying the shot again and again, before he was finally successful with a Shakib delivery. But his aggressiveness soon cost him his wicket.
Karthik made 27 before Rubel caught him at mid-off off Mahmudullah. India 362 for seven.
Laxman soon completed a well-deserved half century. It was his 43rd Test half century, but first against Bangladesh.
The new ball was taken just an over (Shafiul's) before the tea break.
And Zaheer used the opportunity to slam the ball all over, helping himself to three boundaries in the process.
The intent was clear, the timing of the declaration wasn't.
Resuming on 259 for four after lunch, India reached 384 for seven (after 81 overs) at tea, with Laxman batting on 51 and Zaheer Khan on 17.
Post-tea session (96 runs, 24 overs, three wickets):
Indian innings:
India declared at 413 for eight (after 87 overs) soon after tea. VVS Laxman remained unbeaten on 69 and Ishant Sharma was not out on 7.
Zaheer (20) continued swatting his bat after tea but this time his move backfired, Shakib cleaning him up with a straighter one. India 394 for eight.
In came Ishant and he carried on from where Zaheer had left, the first boundary from his bat (over extra cover) helping India reach 400.
The declaration came soon after. And Bangladesh were left to see out 18 gruelling overs.
Bangladesh innings:
Having notched a formidable total, India began the final innings emphatically when Zaheer induced an outside edge off Imrul Kayes's (1) bat in the third over and Karthik made no mistake behind the stumps.
In came Shahriar Nafees (21) and he lived dangerously throughout his stay at the crease, twice getting a reprieve. He had scored only five when Laxman dropped him at second slip (off Zaheer).
And when he was on 15, Laxman again came to his rescue. Zaheer had drawn the left-handed batsman forward and induced an edge but Laxman failed to hold on to it, injuring his fingers in the process.
Nafees rode on his luck twice but soon became complacent with the 'fortune factor' and that cost him his wicket.
Ishant squared him up and forced him to edge one to Virender Sehwag at slips.
Nafees's dismissal reduced Bangladesh to 47 for two, thereby increasing their cup of woes. 
However, Tamim and Ashraful ensured there was no further damage.
But what Bangladesh needs on the final day is a big partnership from both, a partnership that will give this innings a foundation that they are yet to get. A foundation that will help them save the match.
At the moment that seems highly unlikely.