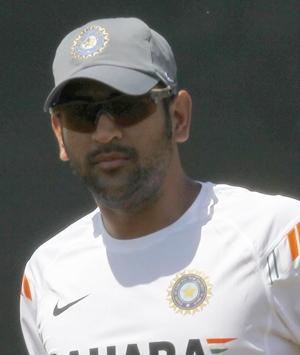 The absence of pace spearhead Zaheer Khan and S Sreesanth is a big setback for the team, says India captain Mahendra Singh Dhoni. He, however, reckons it will provide the young pacers in the squad an opportunity to prove their worth in the Test series against Sri Lanka.
Zaheer was ruled out of the series due to a shoulder injury while Sreesanth sprained a ligament in his left knee and was on Monday replaced by Munaf Patel in the squad.
- Depleted India face tough warm-up
"It has happened with us in the past. In the past also we have lost our main bowlers just before an important series. We will definitely miss Zaheer and Sreesanth during the series," Dhoni told reporters.
He, however, felt that the situation is an ideal opportunity for non-regular bowlers of the team to prove their worth.
"It is a great platform for young bowlers to prove their mettle and seal their place in the side," Dhoni said.
To make matters worse for India, off-spinner Harbhajan Singh is down with a fever and ruled out of the practice match.
"Harbhajan is not playing tomorrow. He has got a viral infection but he is expected to be fit for the first Test," Dhoni said.
Praising Muttiah Muralitharan, who will quit Test cricket after the first Test against the Indians, Dhoni said his batting colleagues will do their best to make it difficult for the Lankan spinner to attain the 800-wicket mark, which he is eight scalps short of.
"Murali is great bowler but we will make it tough for him in the series. He will have to earn his wickets," he said.
Dhoni also said that he is not in favour of the Decision Review System (DRS) which will make its debut in next year's World Cup in the sub-continent.
"I am not in favour of the review system. I feel it should be used only when it is 99 per cent accurate," the wicket-keeper batsman said of the DRS which will not be a part of the forthcoming series.