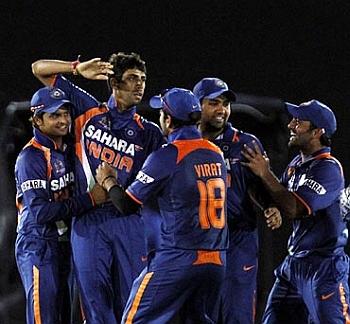 Pakistan speedster Umar Gul has said he is not surprised with India lifting the Asia Cup title, as the men in blue were far more experienced and better in comparison to the hosts Sri Lanka.
Gul said once India won the toss and elected to bat first at Dambulla, he always believed that Dhoni's brigade would win the coveted championship.
"It didn't surprise me even though India lost the league match to Sri Lanka. But given the conditions in Dambulla and the fact that the ball does seam around under lights, India had the better and more experienced pace attack to cope with the pressure of a high profile final and their bowlers came good," The Daily Times quoted Gul, as saying.
"I thought Praveen Kumar set the tone for the other Indian bowlers with his new ball spell while Ashish Nehra produced a magical spell," he added.
Gul, who missed both the T20 World Championship and the Asia Cup due to a shoulder injury, said missing the two tournaments were the biggest disappointments of his career, but expressed the hope that he would come good in the upcoming Test series in England.
"Missing these two major events were the biggest disappointments of my career but one has to cope with such situations. I am just glad I am fit again and back in the team," said Gul , who has taken 96 wickets in 26 Tests.
"All that is history now. I have recovered completely from the shoulder problem and have started bowling again. I am 100 per cent fit but it is a long tour in England and I have been advised by the PCB medical panel to take care of myself," he added.