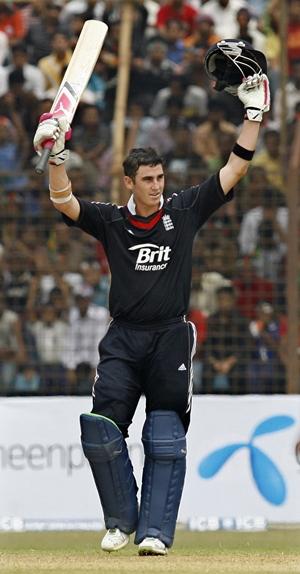 Opener Craig Kieswetter scored his maiden one-day century as England romped to a 45-run victory over Bangladesh on Friday to win the one-day series 3-0.
South African-born Kieswetter, who completed his four-year qualification process last month and was added to the one-day squad after impressing for the England Lions, blasted 107 for the tourists, who piled an imposing 284 for five.
Seamer Tim Bresnan then took four wickets as Bangladesh were restricted to 239 for nine.
Chasing a daunting total, Bangladesh lost opener Tamim Iqbal from the third ball but were in contention for a first win over England until a dubious lbw decision against skipper Shakib Al Hasan derailed their innings.
After the untimely dismissal of two set batsmen Aftab Ahmed (46) and Mushfiqur Rahim (40), Shakib was slowly rebuilding the innings when he was given out lbw off Kevin Pietersen to a delivery that pitched outside the off stump and was turning away.
Before Shakib departed for a run-a-ball 38, Bangladesh were comfortably placed at 162 for four with more than 16 overs and a batting powerplay left in their innings.
Bresnan and off-spinner Graeme Swann (2-38) then made quick work of the lower order as Bangladesh's hopes fell away.
Earlier, after opting to bowl first, Bangladesh's spinners did a good job to contain England until the last 10 overs when the tourists thumped 107 runs.
Kieswetter, playing only his third one-day international, led the way by blasting nine fours and three sixes in his hundred.
Eion Morgan, who cracked an unbeaten century in the previous game, chipped in with 36 and Luke Wright added 32 off only 13 balls.
Scorecard
England:
A. Cook c Rahim b Shakib 32
C. Kieswetter b Razzak 107
K. Pietersen lbw b Razzak 22
P. Collingwood c Razzak b Suhrawadi 36
E. Morgan c Tamim b Shafiul 36
L. Wright not out 32
T. Bresnan not out 6.
Extras: (lb-3, w-10) 13
Total: (five wickets; 50 overs) 284
Fall of wickets: 1-59, 2-96, 3-170, 4-237, 5-257.
Bowling: Shafiul 5-0-35-1 (w-2), Rubel 6-0-62-0 (w-1), Razzak 10-0-40-2 (w-2), Shakib 10-0-45-1, Naeem 7-0-36-0 (w-1), Suhrawadi 10-1-45-1, Mahmudullah 2-0-18-0
Bangladesh:
T. Iqbal c Bresnan b Shahzad 0
I. Kayes c Prior b Bresnan 17
A. Ahmed run out 46
M. Rahim c Bresnan b Swann 40
S. Al Hasan lbw b Pietersen 38
Mahmudullah c Cook b Bresnan 34
N. Islam c Wright b Swann 17
Suhrawadi Shuvo c Shahzad b Bresnan 11
A. Razzak not out 17
S. Islam c Prior b Bresnan 0
R. Hossain not out 2.
Extras: (lb3, w-14) 17
Total: (nine wickets; 50 overs) 239
Fall of wickets: 1-0, 2-40, 3-96, 4-125, 5-162, 6-204, 7-211, 8-228, 9-228.
Bowling: Shahzad 9-0-55-1 (w-3), Bresnan 9-1-28-4 (w-2), Wright 2-0-16-0, Plunkett 2-0-12-0, Collingwood 10-0-51-0 (w-1), Swann 10-0-38-2, Pietersen 8-0-36-1 (w-3).