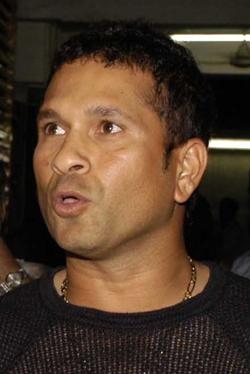 Fans are seething but star batsman Sachin Tendulkar threw his weight behind Mahendra Singh Dhoni and his men on Thursday, saying people should not lose faith in the current crop of Indian players despite the flop show in the Twenty20 World Cup.
Tendulkar said cricket is a game of glorious uncertainties and people should keep the faith in Dhoni and his men since it is more or less the same bunch of players who won India the 2007 Twenty20 World Cup.
"There will be ups and downs, but you just have to have your faith in players because the same lot got us the World Cup," Tendulkar, who was in Chandigarh on a promotional campaign, told a gathering.
Despite the debacle in the West Indies, Tendulkar said India remains the number one team.
"We should not forget that we are still the number one team in the world," he said.
India did not win a single Super Eight stage match in the tournament, but Tendulkar found nothing wrong with the players.
"The players have been training hard. They know and understand their responsibilities. Sometimes things click, sometimes not," said Tendulkar.
"In IPL, we Mumbai Indians played so well, but in the final things didn't work out for us. So it can happen to anyone," he argued.
"All I can say is that the players need support so that they can start afresh again and look to deliver better results," he added.
He found nothing wrong in the public angst but felt fans should stay positive.
"I know it's disappointing, but it has not happened for the first time and it would not be the last time either. The game has its uncertainties. We have to see how we can do better.
"Obstacles keep coming, not just in cricket but in life also. We need to look for the solution. We have to be positive and there is always room for improvement," he said.
Experts said the Indian players looked jaded in the tournament because they hardly had a breather after playing in the Indian Premier League. Even Dhoni said post-match IPL parties and travelling took its toll on the players' body.
Tendulkar, however, was not ready to blame the IPL for India's debacle in the West Indies.
"I mean there are both advantages and disadvantages and it depends on how you see it. From my point of view, I think IPL gives opportunities to out-of-form players to return to form."
The technical frailties of India's batsmen against short-pitched bowling was exposed in the Caribbean and Tendulkar conceded that it was a grey area.
"Players tried to negotiate short balls but things didn't work out. I am sure the team would sort out this aspect of the game very soon. There are ways to tackle short-pitched bowling and the team will try all options to overcome the shortcoming," he said.
On opener Gautam Gambhir's poor form, he said, "He was in top form last year but this year he hasn't performed that well. But that does not mean he is no longer a good player.
"Cricket is a game of uncertainties and it is always going to be like this."
Overall, Tendulkar felt the players gave their best.
"Irrespective of the results the team needs our support because they did everything that was within their reach," he said.
Looking ahead, the champion batsman said winning the ODI World Cup next year should be India's target.
"We want to win the 2011 World Cup. It is the dream of the whole country. We have to improve upon our weaknesses and capitalise on our strengths," said Tendulklar, the first cricketer to hit a 200 in a One Day Internationals.
The proud owner of 93 international centuries, Tendulkar said he is not chasing any record and only trying to enjoy the game.
"I never count my records; I only consider them as my contribution to the team. Making 200 was good but it was quite normal," he said.
He also revealed there are dreams in life he wants to fulfill.
"I wanted to play along with Sunil Gavaskar and Viv Richards. I got a chance to play with Gavaskar in an exhibition match and I played with Richards in county cricket."