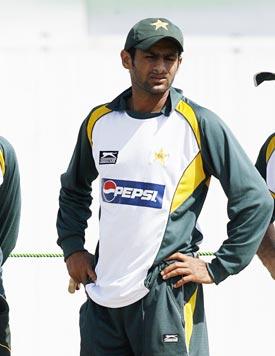 The Pakistan Cricket Board (PCB) lifted Shaoib Malk's 12-month ban for ill-discipline on Saturday, making the former captain available for selection to the national team.
"I have decided to uphold his appeal and remove the ban as the board has extensively monitored his behavior in the last three months," PCB arbitrator and retired judge Irfan Qadir told reporters in Lahore.
Qadir said the board had noticed a marked improvement in Malik's behavior and attitude, and halved a Rs two million rupee ($23,500) fine imposed on the all rounder to Rs one million.
The PCB appointed Qadir as an appeals judge after they banned and fined seven players in March following a probe into the team's troubled tour of Australia early this year.
"I was shocked when they imposed the ban and it was not acceptable to me. But I am happy that I have been vindicated now," Malik told a local news channel.
"I am delighted this stigma of a ban has been removed from my name," he added.
The board imposed 12-month bans and fines on Malik and all rounder Rana Naved as well as indefinite suspensions on former captains Younis Khan and Mohammad Yousuf.
Current skipper Shahid Afridi and wicketkeeper Kamran Akmal were each fined Rs three million and Rs Umar Akmal two million.
All the players with the exception of Yousuf, who announced his retirement from international cricket, have appealed against their bans and fines.
National selectors included Malik and Younus in a list of 35 probables for the Asia Cup One-day tournament and Test tour to England with the final squads due to announced on June 2.
ACTED HASTILY
However, Qadir said he would not be able to conduct Younis's hearing until June 5 following a request by the player's lawyer to delay proceedings.
Former Test player and chief selector Abdul Qadir criticised the PCB for removing Malik's ban, saying the board had acted too hastily.
"It is not a good omen for Pakistan cricket," Qadir said.
"Based on the video recordings of the inquiry committee hearings the action taken by the board was appreciated.
"But by doing a U-turn apparently because of political pressure, the board has once again put Pakistan cricket at risk," he added.
Likewise, former test bowler Jalaluddin said he could not understand when and how the board was able to monitor Malik's behavior since March.
"Most of the time he has been in either India or Dubai after his marriage," he said.
The leaked video recordings of the probe committee showed Afridi, Yousuf, and former team officials, Intikhab Alam and Abdul Raquib blaming Malik for creating disharmony within the team on the tours to New Zealand and Australia.