If you take into consideration the aggression with which he bats, you might think Virender Sehwag winning the ICC Test Player of the Year award is an irony.
For, Test cricket is more about endurance and fortitude vis-a-vis aggression.
However, when you do take into account the number of runs he scores and the impact he has on the match, you might as well believe there is no player better than Sehwag to receive the honour.
The man in question though was in no mood to change his style of play, even after winning the above-mentioned award.
"Whichever format I play, I just focus on scoring runs," said Sehwag, in an unapologetic tone.
"Because scoring runs is what matters in the final analysis," he added.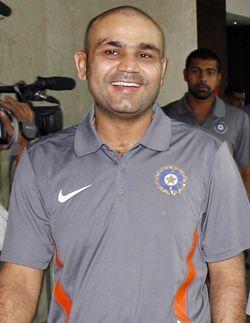 The dashing opener was quick to point out the main advantages of him scoring at a faster rate, even in the longer version.
"Whenever I score fast, I tend to get the team into a winning position," he said, before boasting, "It is a strength which only I have.
"No one else has this ability."
Sehwag was adamant that he pays no attention to what the critics had to say.
"My team has to be happy with my performance," he explained, clearly indicating his priority.
"That is what matters. The rest can be taken care of," he added.
Having won the Test Player of the Year award, Sehwag was quick to express his love for the game's longer version.
"I am a big fan of Test cricket," he admitted, adding, "That is the real test of a player's abilities.
"Now they [Tests] are getting more and more exciting as well."
The opener is only the third Indian, after Rahul Dravid (2004) and Gautam Gambhir (2009) to win the coveted honour.
And Sehwag didn't hesitate in admitting what inspired him to perform better, eventually ensuring him the award.
"I got motivated when Gambhir got this award," he confessed.
"We have been discussing that I would get this award some day, and now I finally have it," he concluded.