Better late than never!
Those were the first words Sachin Tendulkar uttered after being declared ICC Cricketer of the Year 2010, at a glittering function in Bangalore on Wednesday.
For a player who has broken almost every record in the game, there are still a few things that have eluded the Master Blaster.
The coveted Sir Garfield Sobers trophy being one of them. The award, instituted in 2004, and handcrafted by leading international crystal manufacturer Swarovski, was yet to find a place in Tendulkar's trophy cabinet.
Not any more, though.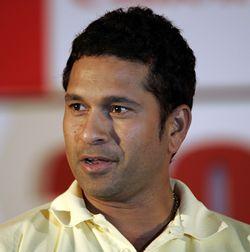 On Wednesday, the 37-year-old edged out compatriot Virender Sehwag, South African Hashim Amla and England's Graeme Swann to lay hands of the elusive award. To say that he deserved it would be akin to stating the obvious: the veteran batsman averages 81.84 in Tests and 65.28 in one-dayers in the past one year.
The emotions that followed subsequently were palpable.
"It means a lot to me. I feel really proud," said Tendulkar, adding, "I am really excited as it is a reflection of what I have contributed to the side. And this is something that I strive for."
Tendulkar joined compatriot Rahul Dravid (2004), England's Andrew Flintoff and South Africa's Jacques Kallis (joint winners in 2005), Australia captain Ricky Ponting (2006 and 2007), West Indies batsman Shivnarine Chanderpaul (2008) and Australia's Mitchell Johnson (2009) as the only players to win the coveted honour.
As an icing on a freshly baked cake, he was also honoured with the inaugural People's Choice awards.
Considering the legion of fans he has worldwide, it hardly came in as a surprise.
Having played international cricket for almost 21 years now, Tendulkar admitted it is recognition like these that encourage a cricketer to improve.
However, asked to explain his endurance, the answer was on expected lines.
"An individual has to work hard. For there is no substitution for that," he explained, before going onto the specifics.
"I have worked really hard over the years and enjoyed my game," he added.
He also took the opportunity to express gratitude to his teammates.
"The last season has been special for the whole team and we want that to continue," said Tendulkar, adding, "We became No 1 in December, which is really something that we wanted.
"The fact that we have been able to retain the rank in the last 10 months means the period has been special."
Having added yet another missing trophy to his cabinet, Tendulkar turned his focus on the trophy that has been eluding him for the last 18 years: the World Cup.
"It is not only my dream but that of an entire nation," he admitted. "We will work hard towards making that dream a reality," he added.
He was quick to offer a plan of action that would help the team in its ambition.
"We will focus on the tournaments before the World Cup, in the next five months that is," he said, adding, "And carry forward the good form into that tournament."