The International Cricket Council has reprimanded New Zealand umpire Tony Hill for publicly stating that he suspected the no-balls bowled by Pakistani pacers during the Lord's Test in England to be deliberate, according to a report.
According to a Radio New Zealand report, the ICC has reprimanded Hill for "talking publicly about the betting scam surrounding the England-Pakistan Test at Lord's".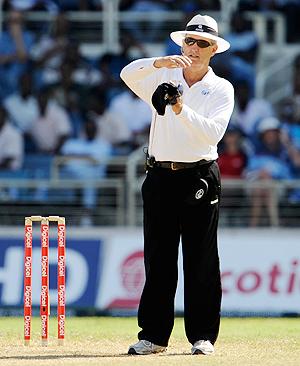 "ICC has told him not to comment further until the investigation into the matter has been completed," the report claimed.
In an interview to The Dominion Post, Hill had said he did not suspect spot-fixing when Mohammad Asif and Muhammad Amir bowled the no balls but thought the duo deliberately did so to unsettle England batsman Jonathan Trott.
He said he and his colleague Billy Bowden had discussed the no-ball bowled by Amir.
Amir, Asif and Test captain Salman Butt were provisionally suspended by the International Cricket Council after the scam came to light through a British tabloid's sting operation.
The trio has decided to contest the charges and written to the ICC in that regard.