In a sensational verbal attack on English cricketers, PCB chairman Ejaz Butt has said that instead of Pakistani players, Andrew Strauss's men should be probed as some of them were "paid enormous amounts of money" to lose the under-investigation ODI at the Oval.
"There is loud and clear talk in the bookies circle that some English players were paid enormous amounts of money to lose the match," he told Duniya television.
"No wonder there was a total collapse of the English side. We won the match and we are under suspicion. England lost, their players should be investigated.
"A team that wins a match does not fix it," he fumed while talking to a local TV channel in Karachi.
Butt reiterated that allegations of spot-fixing against Pakistani players are part of a conspiracy to defame the team.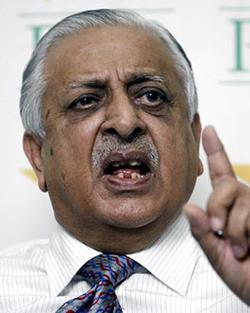 "There are rumours in the bookmaking circle about English players betting. They say there is a conspiracy to defraud the bookies, we think this is a conspiracy to defraud Pakistan cricket.
"There is a conspiracy going on against us and we are also now holding our own inquiry and we will soon expose those behind this. We will also be lodging a protest with the ICC for not taking us into confidence before announcing they were investigating the third ODI," Butt said.
Butt also criticised the ICC for its handling of the matter, saying that the governing body should have at least informed the PCB before going public with its decision to launch an investigation into the Oval match.
The ICC ordered a probe after a British tabloid passed on information that the scoring patterns during Pakistan's innings were similar to the ones determined by bookies in India and UAE.
"We will hold our own inquiry into these allegations of spot-fixing in the third One-Day match. But we are disappointed that the ICC didn't bother to take us into confidence on the matter," Butt, who is in Dubai to meet ICC officials, said.
The charges come in the wake of the spot-fixing allegations against three Pakistan players, Muhammad Amir, Mohammad Asif and Salman Butt, who were accused of deliberately bowling no-balls in the fourth Test against England last month.
Butt said so far the PCB and its players cooperated fully in the ongoing investigations but after the fresh allegations, the PCB has every right to feel upset.
"It is not only difficult but near impossible to stop this spot-fixing thing in international matches. I don't think our players are involved in fixing any matches," Butt added.
He said Pakistani players and cricket had been unfairly labelled as cheats in the media.
"If this is not a conspiracy, what is? None of our players have been proven guilty. All we have are allegations and yet our players are being targetted.
"Our players fought hard to win the third ODI and it is astonishing to know they were told the match is under investigation now," he said.