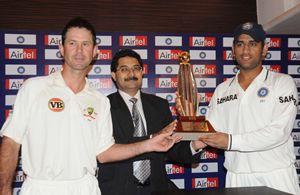 The trophy for the upcoming Airtel India-Australia series, which starts with the first Test at Mohali on Friday, was unveiled in Chandigarh on Wednesday.
India [
Images
] captain M S Dhoni [
Images
] and his Australian counterpart Ricky Ponting [
Images
] unveiled the glittering trophy at a function held in the hotel where the two teams are staying.
Dhoni, who reached the function before Ponting, had a cup of coffee and an informal chat with reporters.
The trophy, designed by Frazer and Haws, is in silver with 24 karat gold plating.
Bharti Airtel [
Get Quote
] have the BCCI's series sponsorship rights for all international cricket matches to be played in India till 2013.
Image: Captains of the Indian and Australian teams, M.S.Dhoni and Ricky Ponting, alongwith Shashi Arora - CEO (Upper North), Mobile Services, Bharti Airtel.