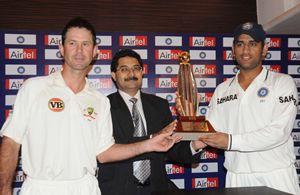 The trophy for the upcoming Airtel India-Australia series, which starts with the first Test at Mohali on Friday, was unveiled in Chandigarh on Wednesday.
India captain M S Dhoni and his Australian counterpart Ricky Ponting unveiled the glittering trophy at a function held in the hotel where the two teams are staying.
Dhoni, who reached the function before Ponting, had a cup of coffee and an informal chat with reporters.
The trophy, designed by Frazer and Haws, is in silver with 24 karat gold plating.
Bharti Airtel have the BCCI's series sponsorship rights for all international cricket matches to be played in India till 2013.
Image: Captains of the Indian and Australian teams, M.S.Dhoni and Ricky Ponting, alongwith Shashi Arora - CEO (Upper North), Mobile Services, Bharti Airtel.