It is probably for the first time since the inception of the game that India goes into a series against Australia on a higher pedestal.
Mahendra Singh Dhoni's men rose to the top spot in the Test rankings last November – following a string of consistent performances, and despite struggling at times they have managed to retain the same since.
Australia, the top Test nation for a long time, has on the other hand fallen to fourth in the ratings. And the ongoing series against India and the upcoming Ashes are consequently of greater significance for Ricky Ponting's men.
Coupled with the fact that the team from Down Under is relatively inexperienced, the hosts go into the series as favourites, to win the series and maintain their ratings.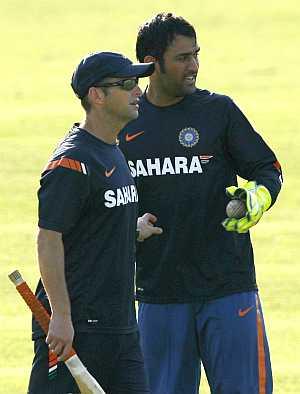 In such a scenario a bit of complacency is expected, and perhaps pardonable. However, it is not the case with the Indian team, if their captain is to be believed.
In fact, MS Dhoni doesn't believe he has any edge over his opposite number.
"It is not a captain versus another, but one team playing against the other," says Dhoni, following the statement with an explanation.
"It is not me who has been successful against Ricky. It is India which has had the edge over Australia in recent years," he adds.
The Indian captain also negates the contention that his team is the favourite ahead of the series.
"When you play at home, expectations are always high," he explains, adding, "A team which dominates more sessions tends to win in tests.
"And we have seen that on Indian wickets it is the six sessions in the last two days that matters the most." Dhoni albeit admits his team is not going into the series with any specific strategy.
"I don't believe in making strategies before the matches because, at the end of the day it is all about adapting to the conditions," he says categorically.
What follows is an uncharacteristic elaboration. "The basic plans are always similar," explains Dhoni. "But changes do happen as per the conditions on the given day.
"What is important is how we do on the field. Having 10-11 good players on paper hardly matters," he adds.
The Indian captain isn't too bothered about the ratings either.
"For us ratings aren't everything," he says, adding, "What matters to us is how we are preparing and how we execute our plans on the field.
"If we keep winning ratings will take care of themselves."
Dhoni's above statement isn't diplomatic but pragmatic. The Indian captain knows that even if his side comes up second best in the series, their top spot remains in tact.