Former India wicket-keeper Kiran More relives Sachin Tendulkar's debut Test against Pakistan in Karachi on November 15, 1989.
More, who went on to head India's selection committee, recalls how Pakistan were left stunned by the 16-year-old's batting prowess.
He still remembers the day when Tendulkar cried after getting out on 88 against New Zealand after missing out on a well-deserved century in 1990. Two years later, More was witness to one of the greatest innings in Test cricket when Tendulkar smashed a cracking century on a green pitch against Australia at Perth in 1992.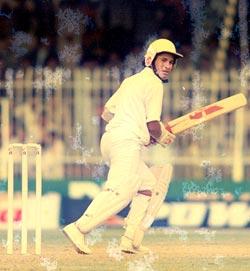 "I knew Sachin very well because I played a lot of cricket in Mumbai. I knew how he had done in junior cricket. When he came to Baroda with the Mumbai team for a Ranji Trophy match -- he was around 14 or 15 -- he came over to my place for lunch.
He was certainly a star from day one. For me, he was a class player right from the start. I think history was made in Peshawar when he got a chance to play an exhibition match. The game was washed out and we played a 20 overs match.
Ravi Shastri and I had gone shopping to buy some jutis (traditional shoes) from the local market in Peshawar. When we came back we heard the crowd shouting and cheering from a distance.
When we reached there, we saw this young boy hitting Abdul Qadir all over the place. After seeing that dashing innings we knew that Sachin had it in him to succeed at the highest level.
When we played a Test at Sialkot, on a green pitch, he batted for around three-and-a-half hours and scored 59 to save the match. He was facing the best bowling attack in the world in Imran Khan, Wasim Akram and Waqar Younis. They deliberately targeted him with short deliveries and once got hit on the nose by a bouncer from Waqar. He refused to take medical assistance despite blooding dripping from his nose.
That day it proved he was not shy of battle and ready to fight it out for his country.
He was a young boy, but showed he was born tough and man enough. Test cricket was tough those days because there was no limit on the number of bouncers you could bowl in an over. And playing in Pakistan, in front of an aggressive crowd, is always tough. But Sachin showed his class and delivered under pressure. That day I knew he had tremendous talent and would go on to break a lot of records.
The Pakistani players used to call him 'Gittu'. They always would say, 'Get this 'Gittu', then we will get the others.'
I heard Imran Khan saying this; they were scared of his hitting. I have never seen anyone comfortable against Wasim Akram, but Sachin played him so confidently even though he was starting out in international cricket.
We had a partnership in New Zealand where he got out for 88 (at Napier in February 1990). He cried when he got out, because he wanted to score a century.
So when he got that hundred in England (at Manchester in August 1990), it was big relief for everyone in the dressing room, because he was a young guy and had come close to a hundred on a few occasions before.
I still remember what a knock it was under pressure, against a good bowling attack. We could have lost the match, but Sachin's century ensured that we saved it.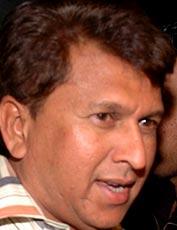 One of the best innings I've seen him play was in 1992, in Perth, when he scored a brilliant century (114 off 161 deliveries including 16 boundaries) on one of the fastest pitches you will ever see.
There were big cracks on the wicket and Australia had quite a few fast bowlers with fielders surrounding the batsmen, but he came up with one of the best innings one will ever witness.
He has been quite sensational this year with his batting and it seems he is reminding us that he still has it in him to score big centuries.
The way he is batting, I wish he keeps performing at this level and wins the 2011 World Cup for India, which is his dream.
He is the best cricketer ever to have graced the game. Despite the amount of pressure and expectation he has to endure from fans and the media he has conduced himself so well.
The best part about him is his passion to play for the country, which shows in his eyes. I think that keeps him going year after year."
Photographs: Pradeep Mandhani and Arun Patil