The West Indies will take on Australia in the first Test at the Gabba in Brisbane without the services of key middle order batsman Ramnaresh Sarwan, who suffered a training mishap.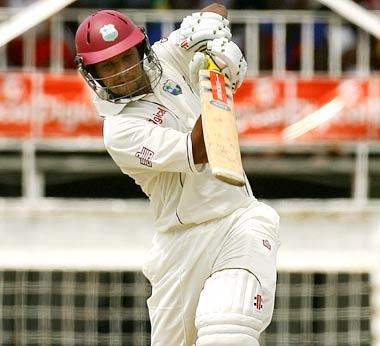 A Daily Telegraph report said that Sarwan had to be assisted from Allan Border Field after being struck down by a back injury during a fielding drill.
Windies media manager Philip Spooner said the classy No 3 batsman fell awkwardly during a normal fielding drill and was taken from the field by the team's physiotherapist.
Spooner said it was too early to rate his chances for the Test match, starting on Thursday at the Gabba.
"We don't know at this point in time, he is being assessed at the moment," he was quoted, as saying.
The 29-year-old warmed up nicely for the three-Test series with scores of 73 and 64 in the drawn four-day tour match at Allan Border Field last week.
Gayle, who flew into Brisbane this morning, was on hand at training and batted in the nets. Even though the explosive opening batsman is suffering from jet-leg, he indicated he was prepared to play.
"I'm honoured, it's good to be back here. Hopefully tomorrow it will be a good day for the West Indies cricket team. This time we'll test our skills against the best team, so I'm looking forward to it," he was quoted, as saying.
Gayle rushed home to Kingston last week to be with his mother, who was admitted to hospital with heart problems. She is now recovering at home.