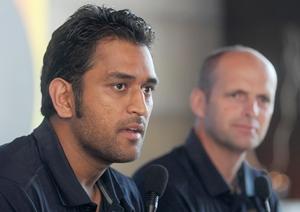 Hours before leaving for the West Indies, India captain Mahendra Singh Dhoni insisted that the scheduling of the hectic Indian Premier League just before the Twenty20 World Cup will have no bearing on his team's chances in the event, beginning April 30.
Dhoni, whose Chennai Super Kings beat Mumbai Indians in the final to win IPL 3, said there is no point in complaining about the scheduling of the tournament as the players knew before hand that it would start just five days after the conclusion of IPL.
"It's not that we have not played games. Sometimes you have to just take the schedule what is available, no point complaining about it.
"IPL was supposed to finish on 25th. We had one-and-half day's rest after that, then one whole day of flight and then after reaching there we have 2-3 days, which is more than enough," Dhoni told reporters in Mumbai, ahead of Team India's departure late Tuesday night.
"We played throughout the year. We are together for almost 250 to 300 days, so I don't think that should be a concern at all," he said.
"If we play to our potential, if every player plays according to his role and responsibility I feel we have good chances. So hope for the best," he added.
His views were backed by India coach Gary Kirsten, who said the team will give its best shot in the tournament, no matter what the schedule is.
"We have got the schedule and can't do anything about it now. The Indian players may feel the heat of it more because all of them played in the IPL, but our responsibility is to go out there and ensure that we are well-prepared. We will do what we can in these circumstances," he said.
"We are looking forward to the World Cup. It is a big tournament and we will like to go out there and perform. We know we can play good cricket," he added.
Going into the World Cup, Yuvraj Singh's form is a major concern for India but Dhoni said his return to runs is just a matter of time.
"Yuvraj is a great player, one of the best in T20 format, one of the biggest hitters of the ball and he can contribute with the ball at the same time. He has not scored too many runs in the IPL, but, at the same time, it's not a big worrying factor.
"In T20 format you need just 5 to 10 deliveries to strike form. He is hitting the ball still well. So we are not too much worried about it," he said.
India's skipper said the best thing about his team is that in spite of playing such a lengthy tournament like the IPL, there are no injury worries.
"It is not the first time we are going for a World Cup. It is the not first year when we played plenty of cricket. We played throughout the year and will continue to do so. We don't have any injuries right now, so it will definitely help us," Dhoni said.
He expects the wickets in the West Indies to be on the slower side.
"The last time we went there the wickets were on the slower and flatter side and helped the batsmen to score runs. We have some practice sessions and we will be watching the practice games of other teams and see how it goes. Hopefully, as the tournament progresses the spinners will come into action," he said.
Asked about the plight of Ravindra Jadeja, who could not play in IPL III after he was banned for breaching player guidelines, Dhoni said he is sure the Saurashtra all-rounder would have worked hard keeping in mind the tournament.
"He (Jadeja) would be fresh and I am sure he would have been practicing for this tournament," he said.
The India captain said he has plenty of spin bowling options at his disposal in the Twenty20 World Cup.
"Both Yusuf (Pathan) and Harbhajan (Singh) did very well for their teams opening the bowling in IPL. We also have very good part-timers in the team. Yusuf, Jadeja and Harbhajan have done well in all formats of the game over the years to be called as specialist spinners," Dhoni said.
"I don't think bowling should be a problem," he added.
Asked about India's tournament opener against an unknown side like Afghanistan, Dhoni said they cannot afford to take any team lightly in the tournament.
"In T20 format any team can beat any other team. You can't relax and will have to give 100 per cent in every game," he said.
Kirsten, meanwhile, put the onus on individual players to come good against short-pitched deliveries that undid the younger Indian batsmen last year in the tournament in England and in the ICC Champions Trophy in South Africa later.
"Every player is aware of what he plans to do and how he wants to set up his game plan. I'm sure the players themselves would know the bowlers they will be facing and would try to exploit the potential weaknesses of those individuals.
"We will do as much work as we can in the limited time available to make sure we are as well prepared," said the former South African opener.
The Indian team is departing tonight for London en-route to the West Indies for the tournament.
India opens its campaign against Afghanistan on May 1 and will play South Africa the next day in St Lucia.
Photograph: Sahil Salvi