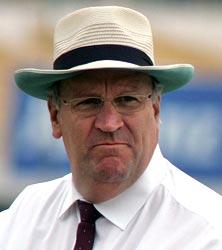 Former Australian umpire Darrell Hair has labelled Shahid Afridi as a "cheat" after his ball-tampering act and is sure that the Pakistan all-rounder will be up to it again in the future.
"Cheat is the only word for him," Hair said of Afridi, who was banned for two Twenty20 games for biting the ball during fifth and final One-Day International against Australia in Perth on Sunday.
"He has cheated before, he has cheated in this instance -- he pleaded guilty -- and I'm sure he will again. He is no angel. I remember that incident when he deliberately scratched the pitch when he thought everyone was looking the other way," Hair was quoted as saying by the Daily Telegraph.
Hair also said the after his sensational debut century Afridi has not achieved much success and is just an overrated player.
"He thought he would get away with it."