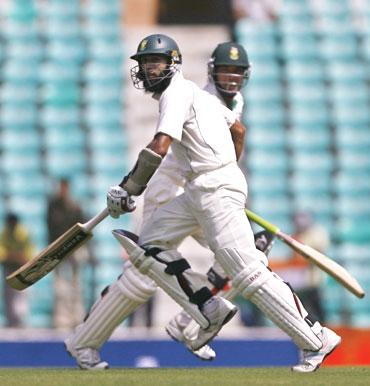 "On how many days do you see Harbhajan Singh ending with figures like this?" asked Kepler Wessels, a few minutes into his press conference on Saturday.
The former South African captain and incumbent batting consultant had kept an eye on the off spinner's disastrous figures (21-0-81-0) during the course of the day. And before one could think of a reason for the same, Wessels came up with his own explanation.
"This shows that our gameplan to counter him was well worked out," he reasoned. The former opener empathized with Harbhajan but credited his batsmen for nullifying the offie's tactics.
"The first day pitch for any spinner is always challenging," said Wessels. "And I don't think he bowled badly but once both these batsmen had settled they played him really well."
Wessels admitted the South African think tank was a tad worried following the early wickets but was happy with the way they had come out of it.
"It was a difficult start for us but it was also a fantastic recovery," explained Wessels.
"The power of concentration displayed by both the batsmen was exceptional and their shot selection was excellent," he added.
The batting consultant was all praise for Jacques Kallis (159) and Hashim Amla (115) who put South Africa in a commanding position with an unbroken 285-run stand for the third wicket.
"Kallis has grown in stature over the years. He has learnt how to assess the situation and apply himself as per the needs," said Wessels.
"And I am not surprised that Amla got a hundred today for he has cemented his place in that No.3 slot and looked good at the nets this week," he added.
Wessels, however, admitted that despite his side's advantageous position, there's no room for any complacency.
"On grounds such as these you cannot take anything for granted. That's what we always discuss," he explained.
"What we need to ensure is that we bat out two sessions tomorrow and then our quick bowlers can come in hard at the Indian batsmen," he concluded.