Team India finally woke up from its deep slumber and proved why they are the number one Test team in the world.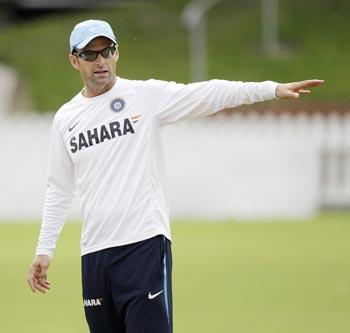 Humiliated in the first Test in Nagpur, they were once again on the backfoot as Hashim Amla and Alviro Petersen struck a century each as South Africa dominated the first two sessions on the opening day of the second and final Test in Kolkata, on Sunday.
But the post tea session witnessed an extraordinary turnaround by the Indian bowlers. South Africa was left gasping for air as they lost seven wickets for 35 runs in 28 overs in the final session to close the day on 266 for nine in 81 overs.
Zaheer Khan (three for 77) was instrumental in bringing India back in the contest as he claimed the wickets of both the century makers - Amla (114) and Petersen (100). Harbhajan Singh then brought some of his old magic back to the fore with three quick wickets for impressive figures of three for 60 in 23 overs.
And, coach Gary Kirsten was no doubt delighted with the performance of his bowlers that has enabled them to stay alive in the contest.
"It was an interesting day. I don't think we started as well as we would have liked but we certainly ended it well. Getting seven wickets in a session for 35 runs put us right back in the game. All credit to the bowlers for sticking it out, for doing what they believed are the right things to do and things worked out well for us at the end of the day," Kirsten said in Kolkata on Sunday at close of play on Day 1.
"When you looked at it at tea we were in trouble, we were in a spot of bother. As I said all credit to the bowlers for turning it around. They showed tremendous resilience. I actually felt the bowlers in this series have bowled pretty well but they haven't got the rewards they would have liked to have got or we would have liked to have got. But they have stuck to their guns and really come in with a good effort," he added.
The former South Africa batsman had special words of praise for his two senior bowlers, Zaheer and Harbhajan.
"Zaheer is the leader of our attack and we've got to give all the bowlers credit on the way they have come out and run in Test match after Test match. I thought Harbhajan bowled really well in the last game. We must be careful of trying to look at the results and then saying someone is bowling well. I thought he bowled really well in the last game, I thought the South Africans played him well in the last game," he said.
India struggled to take wickets in the first Test at Nagpur during which South Africa piled up a huge 558 for six declared and ended up winning the Test by an innings and six runs.
But in this match, Kirsten pointed out that the bowlers executed their plans really well and created pressure by drying up the runs.
"As we know in Test cricket if you are not getting wickets because the ball is not doing a bit, you've got to build pressure. It happened to us in the first Test, we were going nicely with the bat we lost wickets and then pressure was created. And we did that in this Test. When you can create the pressure by doing some creative things on the field, which I thought we did today, and the batsmen play very differently in pressure situations," the former South Africa batsman added.
The Indian coach is confident that his team can continue building on their good effort with the ball on Day 1 into the remainder of the match and level the series.
"We know that if we apply our skills to the best we know we can put opposition teams under pressure, no matter who the opposition is. This team hasn't moved up the rankings the way it has for nothing. They have been able to stack performances up over a period of time starting with Australia in October 2008 and they have been able to apply pressure on the opposition. We focus on what we can do as a team and we know that if we can apply our skills we can put any team under pressure," Kirsten said.