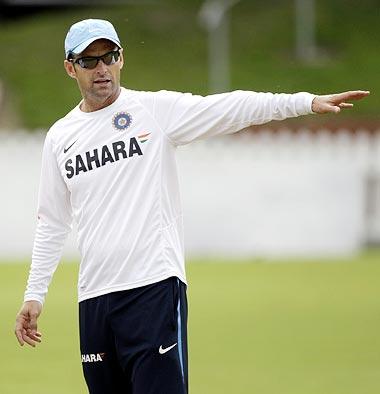 India coach Gary Kirsten expressed his disappointment at the inability of the groundsmen to get the ground ready in time on day four of the second and final Test in Kolkata, on Wednesday.
India needing to win the match to level the two-Test series at 1-1 were frustrated as the start of play was delayed by nearly an hour and half due to a wet outfield caused by overnight rain.
There were reports that one of the Super Soppers was used on the bowler's run up area at the High Ground making it soggy and causing the delay in start of play.
"Obviously, this morning when we arrived here, we could have played in. It was disappointing not to be on the field then. That's the way it is -- we can't fight weather but it would have been handy to have 50 overs today.
"We just have to get on with it and use the time we have left with. We were out over one and half hour this morning. That's not for me to take up, that's just the way it is," Kirsten said.
Only 34.1 overs were bowled on day four with nearly two sessions lost because of the inclement weather. At stumps, South Africa reached 115 for three in 35 overs, needing 232 runs to avoid an innings defeat, with a maximum of 98 overs to survive on the final day weather permitting.
The weather forecast is also not encouraging for Thursday with more thundershowers predicted to hit the city, but Kirsten believes the Indian bowlers just need a couple of sessions to bowl out the visitors.
"Hopefully we will need 40 or 50 overs. It's very difficult with this weather. We have had a very good Test, we played good cricket all way through. We have done what we felt we needed to do. As anyone knows, we are in a good position and obviously we would like to close it up giving our best shot in the amount of time we have got," he said.
Another cause of worry for the Indians is that strike bowler Zaheer Khan is struggling with an injury. He bowled just 5.1 overs on day four before going into the dressing room for the treatment and it is not clear whether he would bowl on the final day.
"He has got a little bit of tightness in his quadracep. He came off the field just to have some ice on him but it's just precautionary measure at the moment. Let's see how he goes tomorrow," Kirsten said.
The Indian coach also pointed out the team's fighting spirit stood out in their comeback after the humiliating loss in the first Test at Nagpur.
"We did not become the no. 1 Test team for nothing. We have got guys who are breaking records. I think we are very proud of our performances. We had a wobble in the last Test, we were unfortunate with injuries as well, losing quite a few experienced players but we bounced back.
We can take a lot of pride in the guys who were really determined to bounce back in the series. This team has shown over a while now that when their backs are to the wall they can bounce back and it is not only for batsmen but for bowlers as well so I am really excited with our performance in this Test match so far," Kirsten said.
The former South Africa batsman said getting the in-form Hashim Amla's wicket would be crucial plus the fielders would have to take alls the catches that come their way. "Amla is a quality player, he has played quality cricket this series and he is really in a good form. It's up to us to make sure that we bowl them.
We will need to bowl a lot of balls in good areas and we can put under pressure and get them out. There are a lot of good players in the South African team as they are in the Indian team but if you give them too many chances they will let them off the hook," he explained.  
The Indian coach also spoke on the team's interaction with South African explorer Mike Horn, which he believes had played a crucial role in inspiring his wards ahead of this game.
"It was just fantastic to listen to him. Paddy [Upton] organised it for the team and the guys were really inspired by him. The timing just worked well because he is quite a busy man, at the moment he is travelling around the world and he just happened to be in this area this time. Paddy knows him quite well, so it just happened. The guys really enjoyed his inspirational stuff," he said.
Kirsten also admitted that if the weather plays spoilsport there is nothing that India can do about losing the series and also the number one ranking with it.
"This is nothing we can do about it. We just got to deal with this. We all have been very proud of our performance in this Test. Hopefully, we able clinch this tomorrow but we still got work to do, we got to bowl well. We came out really well with the wickets we got," he said.