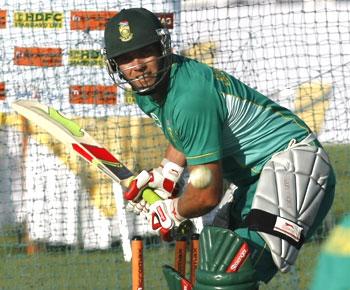 South Africa has never won an ODI series in India in three attempts, yet there seems to be no desperation to break the jinx this time around.
With the 50-overs World coming up in the sub-continent next year, South Africa's stand-in captain Jacques Kallis revealed the ODI series against India starting on Sunday will serve as a good preparation for the mega showpiece event.
After failing to clinch the recently-concluded Test series, which ended in a 1-1 draw, the Proteas don't seem to be that desperate to win the three-match One-Day Series and made it clear that everyone from their squad of 15 would get a chance to get acclimatized to the conditions keeping in mind the 2011 World Cup.
"From the team point of view there's a lot in this series for us. With the World Cup here in a year's time and it's the same time of the year that it's going to get played. So there's a lot of stuff that we can take away from this series.
"The conditions, and what combinations you want to use in this type of conditions. Obviously we would like to win the series in preparation for the World Cup which is the main focus but having said that winning the series is important," Kallis said at the Sawai Mansingh stadium in Jaipur on Saturday.
With regular captain Graeme Smith ruled of the series because of a finger injury sustained during the Test series, Kallis has been handed the reins of the team.
"It is a great honour to be able to captain one's country. I am looking forward to it. I have done it a couple of times before. I really enjoyed it. I am looking forward to it from a personal point of view," the all-rounder said.
South Africa are yet to win an ODI series in India having lost in their first attempt in 1991-92 and then in 1999-00, while the last one in 2005-06 ended in a 2-2 draw.
"We would like to win a series here. It has been tough and it has been close in the past where have played some good cricket. So it is something on our priority list that we would like to achieve," Kallis said.
The South African batting mainstay does not believe that their loss in the second Test in Kolkata would give India the momentum going into the ODI series.
"We are disappointed that we couldn't draw that Test match and win the series but that's in the past and this is a different format. This is very different side that we have got here as a one day side. I don't think the Test series result have an impact on the side too much," he stressed.
Kallis pointed out that the large number of all-rounders in their side gave them the edge over the Indians.
"We have been fortunate enough over the years to have a lot of all-rounders in our set-up which obviously in a one-day cricket you need. You want to bat as deep as you can and from the bowling perspective also make sure you have as many options as you can. We have been fortunate with that. It has been one of our strengths."
The visitors are also wary of not taking the Indians lightly despite the hosts missing quite a few top players in Yuvraj Singh, Zaheer Khan, Harbhajan Singh and Gautam Gambhir.
"Harbhajan is a world class bowler. Obviously he will be missed. But there are some quality bowlers in the Indian line-up and they have played some good one day cricket. So they are a strong one day side. We're going to have out work cut-out," Kallis said.