- Scorecard: India vs Sri Lanka, Final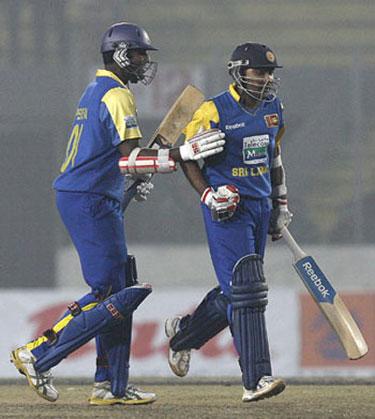 A composed 71 not out by veteran Mahela Jayawardene helped Sri Lanka beat India by four wickets in the final of the Idea Cup tri-series in Mirpur on Wednesday.
Chasing a modest target of 245, Sri Lanka romped to 249 for six, with nine balls to spare, and exacted revenge for the Compaq Cup loss at the hands of India last year.
The former Sri Lanka captain faced 81 balls and had just five hits to the fence -- three from his last three shots -- en route to a 52nd ODI half century.
More importantly, he kept his wicket intact at a time when there were regular dismissals at the other end. It was his resilience that ensured Sri Lanka a positive result in a match with fluctuating fortunes.
Earlier, a steady 93-run partnership for the second wicket between Tillekeratne Dilshan (49) and Kumar Sangakkara (55) helped Sri Lanka recover from an early reverse. The duo departed in quick succession as India made a good comeback into the match after being restricted to a rather small total.
Suresh Raina had saved India the blushes with a splendid century after Nuwan Kulasekara destroyed the top order with a four-wicket haul.
Kulasekara claimed four for 47 and Chanaka Welegedara three for 53, as India were dismissed for 245 in 48.2 overs.
Batting at number six, Raina smashed 106 -- inclusive of ten boundaries and a six -- from 115 deliveries to give the Indian total some respectability.
India were struggling at 60 for five before Raina and Ravindra Jadeja (38) rescued them with a 106-run partnership in 142 deliveries for the sixth wicket.
India:
Sri Lanka opted for experience in their bowling by bringing back Nuwan Kulasekara in place of Suranga Lakmal, and the pacer made a difference right at the start.
Gautam Gambhir was bowled for a duck when he tried to flick Nuwan Kulasekara fine on the leg side but the ball hit his thigh pad and ended up on the stumps in the first over of the match. (1-1, 0.3)
The in-form Virat Kohli (2) joined him in the dressing room in the next over after lashing out at a wide delivery from Chanaka Welegedara only to edge it behind to wicketkeeper Kumar Sangakkara, as India were reduced to four for two after two overs. (4-2, 2)
Virender Sehwag then brought some cheer to Indian fans with three boundaries against Kulasekara in the third over. The first boundary also brought up 7000 runs for Sehwag in his 291st match, at an amazing strike rate of over 100, underlining how much he dominated the bowlers over the years.
Yuvraj Singh's poor run in the tournament continued when he also went after a wide delivery from Welegedara and was taken by Thilan Samaraweera at first slip without scoring. (16-3, 3.3)
The left-hander has struggled to adjust to the conditions throughout the tournament, aggregating just 96 runs in five matches, at an average of 24.
Sehwag continued to maintain a positive approach despite the early wickets, hitting Welegedara for boundaries in successive overs. Dhoni also looked to hit boundaries at every opportunity and hit a couple of them early on to take India to 42 for three after eight overs.
Just like the batsmen before him the captain (14) also fell while trying a careless shot when the situation demanded some steady batting. He went to drive a wide delivery from Kulasekara but got an edge, which was taken by wicketkeeper Sangakkara. It was the Lankan keeper's 300th dismissal in ODIs. (47-4, 8.5)
Sehwag then decided to counter-attack and slammed Welegedara for back-to-back boundaries through the off-side to race to 41 from 25 deliveries, having hit seven boundaries, as India reached 58 for four after ten overs.
However, India's fortunes plunged further as Sehwag fell in the next over, caught behind by wicketkeeper Sangakkara, as he tried to uppercut Kulasekara, after a quickfire 42 from 27 deliveries. (60-5, 10.4)
Suresh Raina nearly threw his wicket way when he tried to chip Kulasekara over mid-off but just about managed to clear a diving Dilshan for a boundary in the 13th over.
The young left-hander was keen to attack at every given opportunity, as he showed when he pulled a short delivery from Thilan Thushara for a boundary to take India to 98 for five after 20 overs.
While Jadeja was content rotating the strike, Raina looked to score from boundaries. The latter hit Thissara Perera for back-to-back fours over the off-side to bring up his half-century from 66 deliveries, as India reached 148 for five after 30 overs.
The two left-handers brought up their 100-run partnership from 131 deliveries for the sixth wicket in the 33rd over to lead a fine recovery.
The new ball was taken after 34 overs and it paid off for Sri Lanka, as they claimed the wicket of Jadeja. The left-hander was beaten by the quicker delivery from Tillakaratne Dilshan and trapped leg before wicket for 38 from 64 deliveries, after a useful partnership of 106 runs for the sixth wicket with Raina. (166-6, 34.2)
Interestingly, closer looks at the replays and snicko meter showed that Jadeja had got a faint inside edge before the ball struck his pads.
Raina looked to step up the tempo and stepped down the wicket to Randiv and lofted him over the long-on fielder for the first six of the innings, in the 39th over. In the next, he played the upper cut to a short delivery from Thushara for a boundary through third man region to take India to 194 for six after 40 overs.
Randiv continued getting punished by Raina as the left-hander pulled him twice for boundaries in the 41st over to move into the 90s.
But Harbhajan Singh let his team down with a reckless shot that caused his downfall for 11. The right-hander tried to sweep Randiv but missed the ball completely and was trapped plumb leg before wicket. (213-7, 42.5)
Meanwhile, Raina completed a deserved century, his third in ODIs, off 109 deliveries, with a double on the leg side against Perera in the 44th over.
Zaheer Khan started with two successive boundaries against Perera -- the first one was edged wide of the wicketkeeper but the second smashed through the covers.
India decided to take the Batting Powerplay with the scoreboard reading 225 for seven after 44 overs. Zaheer made full use of the fielding restriction as he slammed a short delivery from Kulasekara over the midwicket fence for a six.
However, he fell off the next delivery when he hit a fuller one straight to Samaraweera in the covers after a quick innings of 16 from eight deliveries to become Kulasekara's fourth victim of the innings. (233-8, 44.5)
With tailenders Ashish Nehra at the other end, Raina decided against taking singles and tried for the boundaries. He took advantage of the fielding restrictions as he lifted a full delivery from pacer Welegedara over the cover fielder for a boundary.
But, to India's horror, he was bowled off the next delivery as he attempted to slog Welegedara across the line on the leg side. The left-hander played all over a full delivery from Welegedara and lost his middle stump after a fine innings of 106 from 115 deliveries, having hit ten boundaries and a six. (237-9, 45.3)
S Sreesanth was the final wicket to fall, when he missed a straight, full delivery from Perera and was bowled for 4.
India were dismissed for 245 in 48.2 overs. Interestingly, Sreesanth opted to remove his spectacles before that delivery was bowled and it seemed he did not spot the ball at all.
Kulasekara caused the most damage with the new ball and finished with respectable figures of four for 48 in ten overs. Welegedara once again impressed, claiming three for 53, as India never really recovered after being reduced to 60 for five.
Raina's century though has given India a glimmer of a hope but Sri Lanka will be feeling confident. As has been witnessed, the pitch gets better to bat in the second half of the game and Sri Lanka's batsmen would no doubt be fancying their chances of upstaging India's total easily.
Sri Lanka:
Chasing a modest target, Sri Lanka began on a disappointing note, losing their first wicket (Upul Tharanga), without any run on the board, to just the third ball of their innings.
Tharanga was caught at second slip by Virat Kohli off Ashish Nehra even before he could open his account.
However, it was soon bad news for India as well when Nehra went off the field, after bowling just nine balls, with a troubled groin. Kohli went on to complete the third over.
It took the usually dangerous Dilshan nine balls to get off the mark, but the dashing opener soon came into his own, pulling Sreesanth to the leg side fence.
Zaheer was brought in to replace Nehra in the fifth over and Sangakkara welcomed him by driving his second ball to the mid-off fence.
Four balls later, it was a square drive over point for yet another boundary.
Dilshan helped himself with a couple of boundaries in Sreesanth's third over, and a couple more in his fourth.
And when Harbhajan came into the attack, in the 10th over, Dilshan hit the first ball over the midwicket for yet another boundary.
However, the Sri Lankan batsmen did slow down a bit after the first Powerplay.
And when Yuvraj Singh was introduced in the first over after drinks, his first delivery gave India a breakthrough, Dhoni catching a bottom edge off Dilshan's bat.
The Sri Lankan opener fell just one run short of his 17th ODI half-century. But, in Yuvraj's next over, Sangakkara found the fence to complete a well-deserved fifty -- his 55th in one-day internationals.
However, in the next over Sri Lanka's captain edged a Harbhajan delivery straight to Sehwag (at slips) and ensured the contest remained alive.
Jayawardene and Samaraweera batted with caution for the next few overs in their attempt to steady the ship -- between the 20th over, when Sangakkara got dismissed, and the 30th, only 34 runs were added to the Lankan total.
More importantly, for them though, no wicket fell.
But India made a breakthrough soon after, Ravindra Jadeja getting Samaraweera to get an inside edge to his stumps.
Samaraweera scored 27 and his fourth-wicket partnership with Jayawardene yielded 48 runs for Sri Lanka.
Sri Lanka were 157 for four in 32 overs, still needing 89 runs to win.
Jayawardene and Thilan Kandamby (18) put on 32 runs for the fifth wicket before the latter was trapped leg before by a well-disguised delivery from Harbhajan -- Sri Lanka's requirement was now 57 runs and almost all their crucial batsmen were back in the pavilion.
Harbhajan's 10 overs cost India just 41 runs while ensuring two vital wickets. However, with Sri Lanka needing 48 runs off the last 10 overs, Dhoni was in a quandary of sorts. With Harbhajan bowled out and Nehra not available, he had only five overs covered -- two from Zaheer and three from Sreesanth -- by the frontline bowlers and had to turn to the part timers for the rest.
He relied on Yuvraj and Jadeja for some time, but soon had to resort back to Sreesanth as the spinners proved ineffective.
The impact was immediate, well almost. Jayawardene was dropped at backward point by Harbhajan (off Sreesanth), a poor effort to say the least.
And with the last five overs remaining -- the batting powerplay -- India's hopes of victory suddenly seemed as unrealistic as they had during the first five overs of their innings.
Jadeja ran out Suraj Randiv (17) in the 47th over to rekindle hopes.
However, Jayawardene dispelled all thoughts of an Indian win with three successive boundaries (off Sreesanth) in the penultimate over, shots which sealed the issue in Sri Lanka's favour. 
Toss:
Sri Lanka captain Kumar Sangakkara won the toss and elected to field.
Predictably, India made three changes to their line-up, bringing back Sehwag, Harbhajan and Zaheer. They replaced Dinesh Karthik, Amit Mishra and Sudeep Tyagi.
Sri Lanka made a solitary change, Nuwan Kulasekara replacing Suranga Lakmal.
Interestingly, all six matches played in the tournament so far were won by teams batting second and Sri Lanka are likely to continue the trend.
The teams played against each other twice in the league stage of the tournament, winning a game each.
Teams:
India: Mahendra Singh Dhoni (captain), Gautam Gambhir, Virender Sehwag, Virat Kohli, Yuvraj Singh, Suresh Raina, Ravindra Jadeja, Harbhajan Singh, Zaheer  Khan, Ashish Nehra, S Sreesanth.
Sri Lanka: Kumar Sangakkara (captain), Upul Tharanga, Tillakaratne Dilshan, Mahela Jayawardene, Thilan Samaraweera, Thilina Kandamby, Thissara Perera, Suraj Randiv, Nuwan Kulasekara, Thilan Thushara, Chanaka Welegedara.